LEMONY LEMON BUNDT CAKE WITH FRESH LEMON GLAZE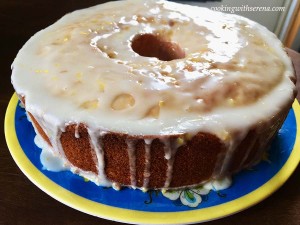 Ingredients
2 sticks Softened Butter or Margarine
1 1/2 Cups Sugar
8 Egg Yolks
2 1/2 Cups Flour
3 Heaping Teaspoons Baking Powder
1/4 Teaspoon Salt
3/4 Cup Milk
1 Teaspoon Vanilla Extract
Tbsps squeezed lemon juice (watch for the seeds)
1  Grated Lemon Rind
Directions
Preheat your oven to 325° F.
Cream the butter and sugar together until fluffs.
In a separate bowl,  beat egg yolks.  Then pour into the creamed mixture. Mix together,
In separate bowl have your  flour, baking powder and salt. Stir well and  add to the creamed mixture , alternating with the milk. Keep beating batter.
Lastly, add in the vanilla extract, lemon rind and lemon juice.
Place  in a Bundt pan sprayed with bakers joy or lightly greased with butter.
Bake in the oven for 40 min or until done.
When done let cool a little then turn onto a serving plate.
Make your glaze.
LEMON GLAZE
Ingredients
2 cups powdered sugar
1  fresh lemon squeezed of its juice
5 Tbsp. milk
Zest of one fresh lemon
Directions
add powdered sugar to mixing bowl
zest your lemon into powdered sugar.
squeeze lemon over strainer and add milk. Will clump up like butter milk.
Pour your homemade. buttermilk into your powdered sugar while mixing. may need to add a little powdered sugar or milk depending on consistency. But should be just about perfect.
Taste.
Pour over bundt cake slowly, may need to pour some let it seep in and wait a while to pour some more.
Enjoy!