RECIPE AND PHOTO  SUBMITTED BY Carol Vasbinder
CAROLE'S BLUEBERRY CAKE
I made a blueberry cake. It smells wonderful!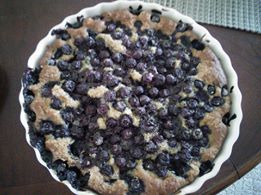 Lemon Blueberry Yogurt Cake

1 c all-purpose flour
1/2 tsp baking powder
1/2 tsp baking soda
1/4 tsp salt
2/3 c turbinado sugar
Zest of one lemon
4 tbsp Earth Balance
1 tsp pure vanilla extract
1/2 c plain yogurt (I used blueberry Yoplait© yogurt)
1/4 cup non-dairy milk (I used soy milk)
1 cup fresh or frozen blueberries (no need to thaw)
1 1/2 tbsp turbinado sugar
Preheat oven to 400°F with rack in the middle. Oil a 9-inch round cake pan and line the bottom with parchment paper. Flour the sides.
Whisk together the flour, baking powder, baking soda and salt in a medium bowl and set aside.
Place the turbinado sugar and lemon zest in the bowl of a stand mixer or in a large mixing bowl. Using your fingers, rub the zest into the sugar until it is the texture of damp sand and smells like lemon candy. Add the Earth Balance and beat in a stand mixer or with an electric mixer on medium-high speed until pale and fluffy, about 3 minutes. Beat in the vanilla and the yogurt.
At low speed, beat in half the flour mixture until just combined. Then beat in the non-dairy milk and remaining flour mixture.
Spread batter evenly in the pan. Scatter berries over top and sprinkle evenly with turbinado sugar.
Bake until cake is golden-brown and a tester inserted in the center comes out clean, about 25-30 minutes. Let cool for 10 minutes in the pan, then turn out onto a rack and cool for 10-15 more minutes. Remove parchment and invert onto a plate.
It is very easy- no mixer needed. And it got great reviews by my guests. Enjoy!