Leftover chicken from your rotisserie?
Chicken and Dumplings easy and fast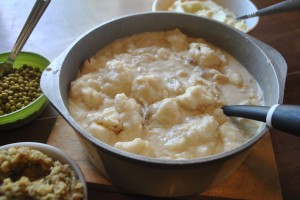 So we had a lot of leftover chicken today.. leftover from the two large birds we roasted outside in "The Big Easy" Outdoor Oven. I made sure all the bones were gone and the fat and skin and pulled apart some of the bigger chunks into smaller pieces.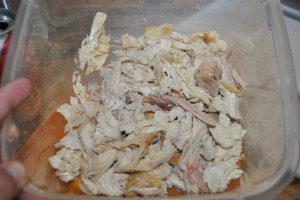 Next I made my dumpling batter
2 1/2 cups self rising flour
mix with a little warm tap water using a fork to mix it.
dough should be not too runny but not super stiff either..
next add about a Tbsp Vegetable oil  and mix in with the fork. LEt it sit
Now take at least 3 cans of chicken broth and pour into a heavy bottomed pot. Make sure your pot has a lid that fits tightly.
Add a stick of butter and bring to a boil
Now add in a can of evaporated milk
Now I drop the batter by the tbsp into the boiling broth.
turn down the heat to simmer put lid on and set timer for 11 minutes. NO PEAKING
Now take off lid and add your chicken to the pot, gently folding the chicken in.
Now if it is needed you will add your thickener.. if your broth needs thickened just add to a small cup 1 or 2 Tbsp of Cornstarch and then mix in a little water just till liquidy, and pour into the dumplings.. stir will thicken. enjoy