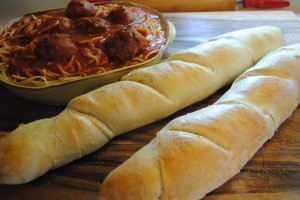 1 Tablespoon Sugar
2 Tsp Salt
2 Packages of Active Dry Yeast (2 Tbsp)
about 5 cups All Purpose  Flour
1 Tbsp Butter or Margarine
Water
Cornmeal
Salad Oil
1 egg white
1. In large bowl, combine sugar, salt, yeast and 2 cups flour.
heat butter  and 1 3/4 cups water until very warm (butter don't have to be melted)
2. With mixer on low speed gradually beat liquid into dry ingredients until just blended. Increase speed to medium, beat 2 minutes occasionally scraping bowl with rubber spatula.
3. Beat in 1/2 cup flour to make thick batter; continue beating mixture at med speed 2 minutes. With wooden spoon  now you will stir in enough additional flour  (about 1 3/4 cups) to make a soft dough (I used my dough hook on my mixer)
4. Turn dough onto floured surface: knead until smooth and elastic bout 10 minutes adding small amounts of flour as you knead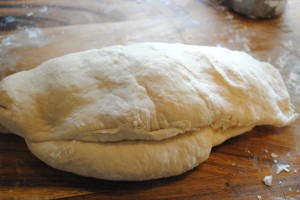 5. Cut dough in half: cover for 20 minutes to let rest for easier shaping.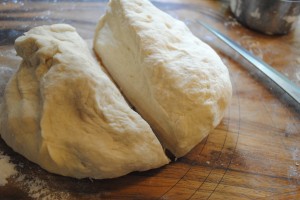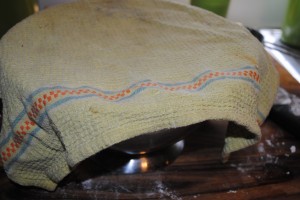 6. Grease X Large cookie sheet, Sprinkle with cornmeal
7. On Floured surface with floured rolling pin roll each half into 15 x 10 rectangle from 15 inch side (widest side) roll dough like tight jelly roll fashion. Pinch seam to seal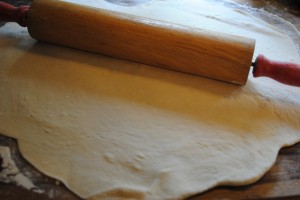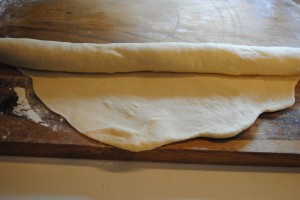 8. Place loaves seam side down on cookie sheet and taper ends best you can . Brush with oil, cover loosely with plastic wrap and refrigerate for 2 to 24 hours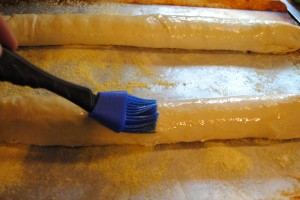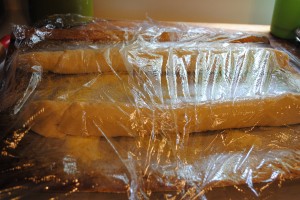 9. Preheat oven to 425 F. Meanwhile remove loaves from fridge and uncover let stand 10 minutes. Cut 3-4 diagonal slashes on top of each loaf. Bake 20 minutes.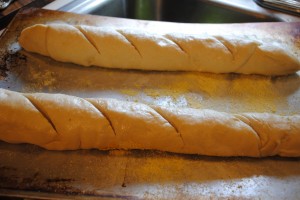 10. In small bowl with fork beat egg white with 1 tbsp water. Remove loaves from oven brush with egg white mixture and return to oven to bake 5 minutes.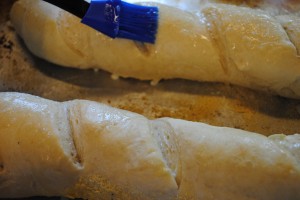 LET BREAD REST BEFORE CUTTING AND……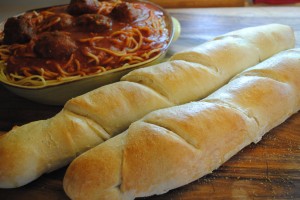 ENJOY!!!!!!!!!!!!!!!!!!!