Hungry girl shake;) Tastes like a Wendy's Frosty!!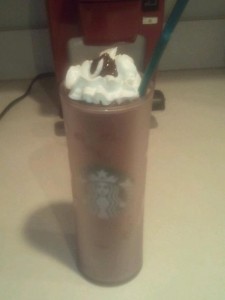 HUNGRY GIRL LOW FAT CHOCOLATE SHAKE
Ingredients:
3/4 cup Breyers Fat Free French Chocolate ice cream
1 25-calorie packet diet hot cocoa mix
1 1/2 tbsp. Hersheys Syrup Lite chocolate syrup
2 no-calorie sweetener packets (like Splenda)
2 cups crushed iced (about 10 – 14 ice cubes' worth)
Optional: Fat Free Reddi-wip and a maraschino cherry
Directions:
Dissolve cocoa mix and sweetener into 2 oz. of hot water. Mix well. Add syrup and 6 oz. of cold water and stir. Place crushed ice and ice cream in a blender. Top with liquid mixture. At low to medium speed, blend until shake is thoroughly mixed (but not liquified). Pour into a very tall glass and, if desired, top with a generous squirt of Fat Free Reddi-wip and a cherry.
Serving Size: entire (24-ounce) shake
Calories: 206
Fat: <1g
Sodium: 244mg
Carbs: 48g
Fiber: 7g
Sugars: 30g
Protein: 6g
PointsPlus® value 5*
We got Breyers low carb icecream and 1/2 cup is 90 calories