HOW TO MAKE BASIC FRESH HOMEMADE EGG NOODLE PASTA DOUGH

Whether you make this dough by hand or with the help of a mixer or food processor, the results will be equally fine. You will however have to be flexible with the amount of flour and liquid as the flour will absorb differently according to the humidity of the day and the exact size of the eggs.  Pasta dough is not going to have the same feel as the dough you are used to working with when making bread.. or even pastries.. Pasta dough is firm .. you will really enjoy your pasta making process or you will hate it.
Basic Egg Noodle Pasta
4 -5 large eggs
1 -2 Tbsp  Water
3 1/2 cups Sifted All Purpose Flour
Place flour in bowl or board (I used bowl) make well  in center and crack eggs into well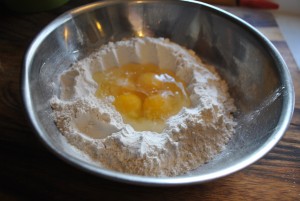 using fingers of one hand like a fork, break up the eggs, then stirring the eggs in a circle, gradually draw the flour into the eggs to make moist pliable ball of dough.. if dough is too dry sprinkle with 1 tablespoon of water…. if dough seems too sticky sprinkle with a tablespoon of flour.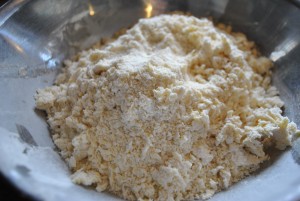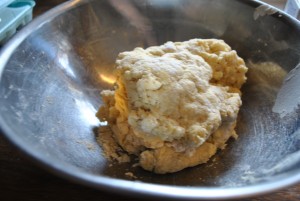 Knead the dough 5 minutes if by hand, may need to sprinkle flour.. should NOT be sticky. ( if using mixer knead 2 minutes)
Cut your dough, cover the dough your not using at the moment so it wont dry out
Flatten out the dough your going to use first with a rolling pin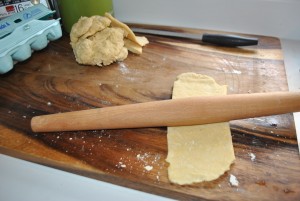 Feed through your pasta machine hand crank or electric.. if electric set adjustment knob on Pasta sheet roller at 1  turn on mixer to speed 2 and feed the flattened piece through rollers repeat several times till dough is smooth and pliable folding over each time before feeding through..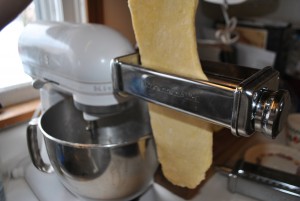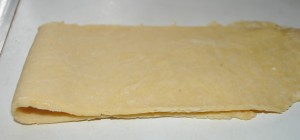 Dough should be supple and leathery, but not too dry that it will crack when cut. . (for stuffed pasta, do not let the dough dry at all, and keep the strips covered with a slightly damp dish towel)
Now turn your knob to 3 or 4 (according to thickness you desire to achieve) and turning your mixer to speed 2 start feeding in the dough again.. holding the dough on each side as to not break your pasta.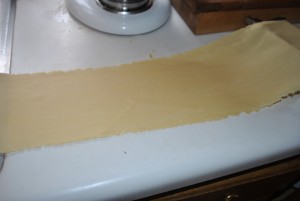 once done you will dust with flour lightly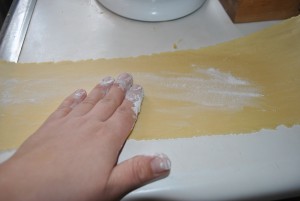 Randy holding one strip of the dough.. LOL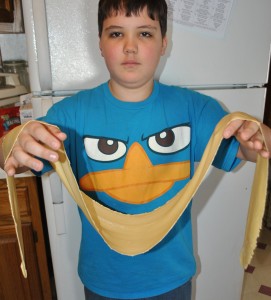 work quickly to shape pasta before moving on to the rest of your dough that is waiting to be kneaded.
Once you shape your pasta in the shape you desire..
whether it be ravioli, ext…  (click here to watch me make ravioli http://cookingwithserena.com/?p=38946 )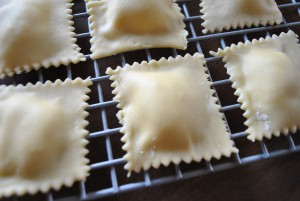 farfalle, click here to watch me make this http://cookingwithserena.com/?p=38941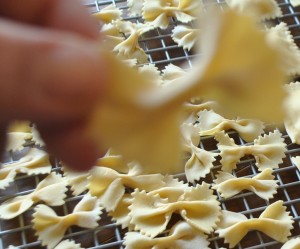 tagliatelle…  click here to watch me make this one http://cookingwithserena.com/?p=38943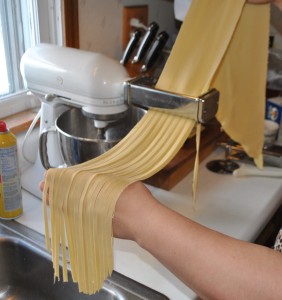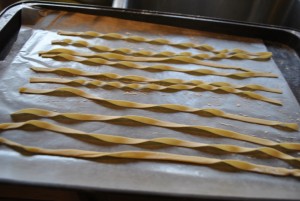 you will let it dry on cookie sheets lined with wax paper  dusted with flour,  or use a simple rack to lay them on..
Once your ready to cook your pasta you just bring a pot of water to boil..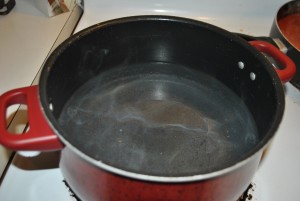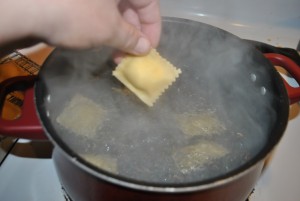 add salt to the water ( I also add a dab of oil so pasta wont stick) When Cooking fresh pasta cook till pasta is just tender but still resilient ( al dente) test by biting into it.. dry pasta will take a little longer.. fresh pasta will be done in a snap so keep watch.  drain pasta in colander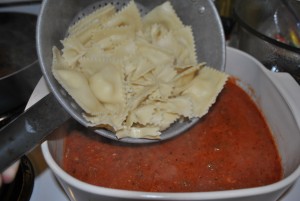 and add to your freshly made Sauce =) enjoy.. (I will post HOW TO shape the ravioli's and farfalle in a later post with photos look for them in the HOW TO category )