A Barn Quilt most often is made to hang outdoors on a barn but many have been seen both large and small, indoors and outdoors of homes, businesses, garages and sheds as well as even on fences or hand painted on water towers.
They are bright, decorative usually with geometric patterns. Some are simple. some quite intricate in design. And then there are those special ones that are quite unique. Well lets be clear ALL of them are special and unique.. but those that don't go by another pattern, but make up their own entirely, now those, are my favorite! 
Barn quilts have been around for over 300 years although they seem to have had a revival in popularity and interest of late 
The purpose of a Barn Quilt is all in who you talk to and what it represents to them. 
For some it represents family, heritage, pride in land ect.. for others it is simply a decorative expression of art and creativity.  
Many farmers have joined together in making a tourist attraction to bring in more revenue and to show off the pride of their livelihood.  Whatever the reason to display a Barn Quilt, we can all agree they are beautiful and quit striking invoking interest from the very young to the very old. 
Here in Southern West Virginia there are many beautiful scenic farms. especially out in the country near our hunting camp, where I have enjoyed photographing over the years. The ones with the barn quilts especially peeked my interest bringing excitement each time I saw one. 
For this reason, I decided a long while ago that I wanted one of my own. Originally I was going to purchase one that was already made but I decided I would try to make my own. 
After all, isn't that the whole point?
Pride in your home, in your land, in your creativity and something that hopefully others will appreciate and see the beauty in as well. 
Well here goes… let me know what you think of my first barn quilt. 
I am NOT a professional, I am NOT claiming to be doing this right, I am NOT telling you anything other than how I made my barn quilt so maybe you may be inspired and want to try to make one yourself as well instead of paying someone else upwards of

300

dollars or more. 
I couldn't have done this without my husband Paul, (He owns the power tools hahaha)
So first you need to figure out where you are going to hang it and how big you want it.
We measured and felt like we needed a very large one. We went with a 3×3
We bought a half a sheet of plywood and Paul cut it to size for me.
He also sanded one side very smooth for me.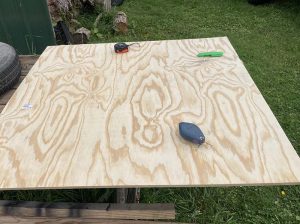 Next you must prime the plywood with a good outdoor paint. We used an exterior white paint.
About three coats (Between drying) on both sides  and the edges to seal it up pretty good. Mine came from Rural King, it was the cheapest and we had it on hand.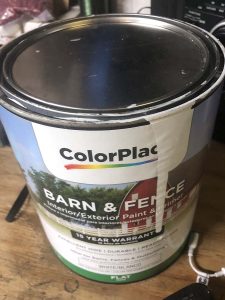 Next is the part where you figure out what kind of design you want.
You can get inspiration from looking at other peoples barn quilt, from actual quilt patterns, or like me just start with a central idea and start drawing it out.
I have a great love and pride in the beauty of my State.
 I decided that West Virginia would be incorporated in my quilt design. I took a poster board half sheet of my sons and just drew my West Virginia outline on it and using an exacto knife my husband had I cut out the State of WV. I save both because I need will need both pieces.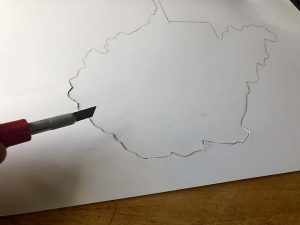 You just need a pencil and good eraser or two.  A Measuring tape, level, and a square to get started.  Get to Creating.. don't worry you can erase if you make light pencil marks. Some people do small grids some do large grids I decided to just do my own thing and I found my center with an X and a square tool and went from there.. I used my cut out to place my state exactly in the center and measured to be sure. Then I traced around my cut out.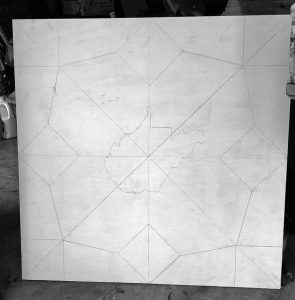 So after I drew out my design I took a photo of it and printed it out so I could take some colored pencils to see if I liked my idea in my head on paper before I went out and bought my colors.. Remember you don't have to stick to this design, I didn't but it totally helped me visualize where I was going with my plan.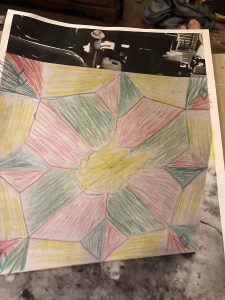 So now I am ready to put color to my State.. I grabbed my piece I told you to save that I cut out my State with and I placed it over top of my State outline taping it best I could and covering the WHOLE board with cardboard or whatever I could find so I could keep my lines from being sprayed over and I took a yellow spray paint and sprayed my center piece.
Could I have just painted it out, yes.. but I was experimenting .. I knew I wanted my state to stand out from the rest of the board so I thought why not try my idea.. I could always paint over with my paint right.. so that's what I did and it came out decent.. I did have to clean up some of it later but thankfully I was using dark colors so it all worked out great when I had to fix my outline of my state..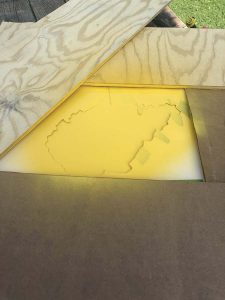 You definitely need some FROG TAPE for this project (I got mine at Lowe's it is worth the price of $9)
You also need a sharp utility knife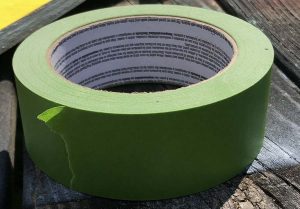 I started by taping off a few things that were the same color and symmetrical .. how you start is up to you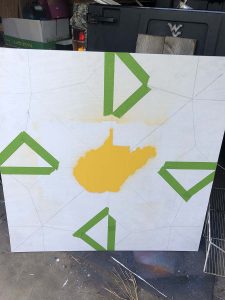 I am starting with my green
I bought all Valspar Flat  EXTERIOR PAINTS... unfortunately the smallest I could get was to buy them in quarts
As you can see I did quite a bit of patchwork on my state with the green .. leaving the other parts blank because those will be another color I used a pack of fine brushes for 3$ at Lowes to do the fine painting spots this is a MUST HAVE!
I also bought a pack of black foam brushes very cheap and actually did great for this job.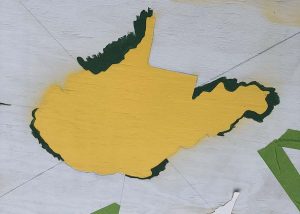 Before you paint around the frog tape you should press very good and when you pull the tape off be very careful.. the less you have to fix the better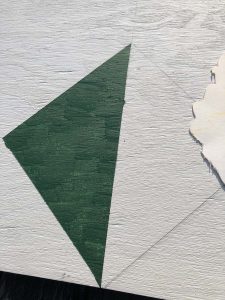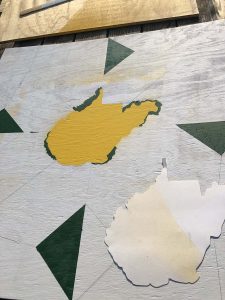 Next I start taping off .. this paint dried extremely fast.. of course I was outside in very hot weather as well.. that didn't hurt the drying time at all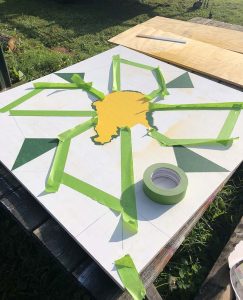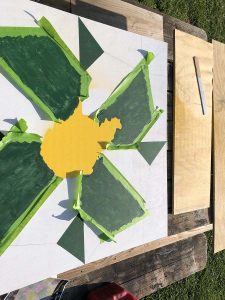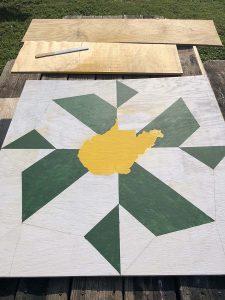 at this point it starts to become exiting .. I start to paint out the rest of the fine detail around my centerpiece by using the Burgundy color I chose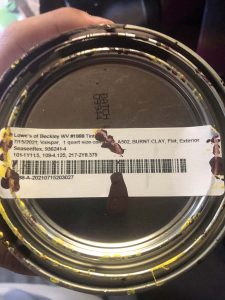 Again I tape out my lines.. be very very careful and mindful of where you tape.. you will have to start doing a LOT of cleanup fine painting  if your not careful.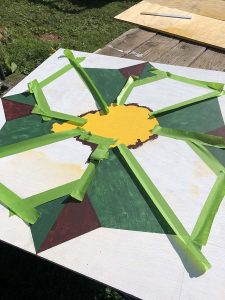 As I pulled up my tape from my wind mill I immediately did touch ups..some people wait till the end for that.. I didn't want to.. it is up to you I guess.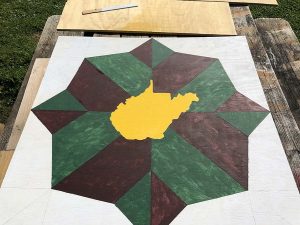 it is really looking pretty.. now my mind starts to think I want to deviate from my original design.. I love it like it is but I know it is going on a white wash so it needs the yellow I bought but do I want to paint out the whole border or not?
I am torn and I do decide to paint out the border just around the Windmill Star but instead of leaving the original square corners I decide to change it to just triangular corners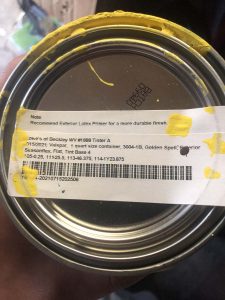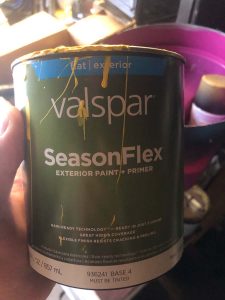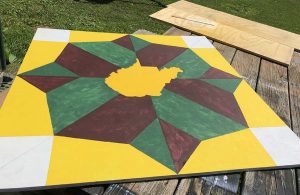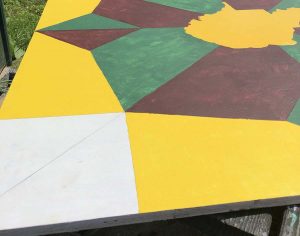 Some serious indecision was going on right here.. I even went to Facebook for opinions haha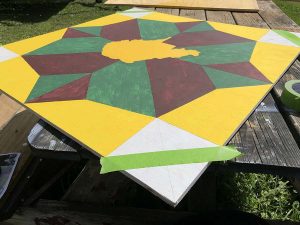 I had decided to go with triangular corners now instead of the square  and my yellow border is complete… BUT I was still not sure if I wanted to split the triangle and do half Burgundy and Green or leave all corners a solid color or even white..
I ended up getting rid of white because of the white wash it would hang on
now it was between all green to match my green tin roof or split colors which would be visually interesting as well.. I am VERY torn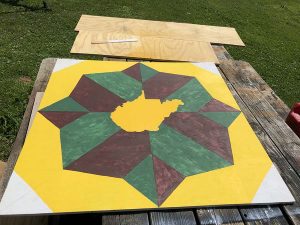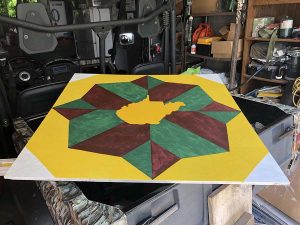 Oh no, did I do the right thing???
I went with Green to bring out the Green Tin Roof..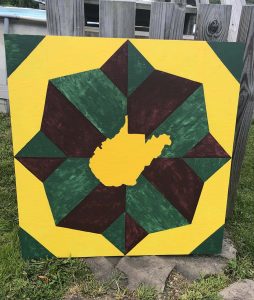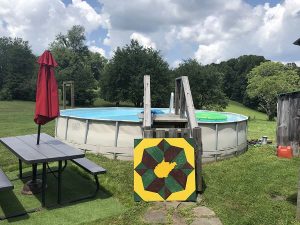 At this point it isn't done yet.. I still think the green needs some touch up paint and I am thinking of putting a red heart on my county. And maybe some decorative white inside the yellow border to match the white wash it will hang on. I also think we will put something over it to protect it as it will be hanging outside through our harsh winters.
I can't wait to hang it but we still have to white wash first.
I will update with photos when I hang it. Wont be this week.. very busy week ahead.
Well I decided to keep it simple because my driveway is long and you can't really see the heart from the driveway.. so I decided to just seal it.. we actually used a car clear coat sealant in a spray can. It was expensive and we had it left over from my son's truck that he had fixed rust on and so if it works on a truck it will work on my sign was our thinking haha.. it looks good. We let it dry good and then we hung it.
Next up to hang is my new weathervane.. hahah..