RECIPE AND PHOTO SUBMITTED BY Tabitha Atkins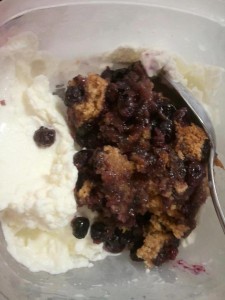 Homemade Vanilla Ice Cream
2 tablespoons sugar
1 cup half & half (or light cream)
½ teaspoon vanilla extract
½ cup corase salt or table salt
Ice
Gallon-size Ziploc bag
Pint-size Ziploc bag (sandwich size)
Mix the sugar, half & half & vanilla extract together. Pour into a pint-size Ziploc bag & seal it tightly. (easier if you mix it in a measuring cup so it is easier to pour out) Try to squeeze out most of the air in the bag before you seal it.
Fill the gallon size bag halfway with ice & pour the salt over the ice
Try to surround the samller bag with the ice
SEAL it tightly and start shaking for 5-8minutes. Open the gallon size bag to see if the ice cream is hard, if not keep shaking. Once the ice cream is finished, QUICKLY run the closed pint sized bag under cold water to rinse the salt off the bag.