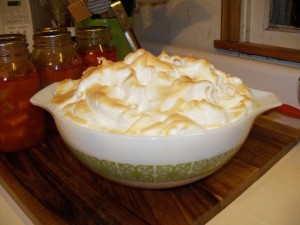 OLD TIME RECIPE FOR CUSTARD
My Grandmothers Recipe
I always make this pudding at night for the next day when I am going to take it somewhere… cause it really needs to SET and get really really chilled to really be at it's BEST… and let it CHILL in fridge Be careful you don't scorch your custard when your making it.. stir often and regulate temp accordingly.. =)

In Tall Kettle put 3 to 4 Cups milk, 1 stick of butter. In another bowl put 2 Cups sugar and 8 to 10 eggs, separated. NOTE:
Use only yellow of egg with sugar mixture.  SAVE your egg whites to make meringue…..
Add 2 Tablespoons vanilla to the sugar mixture… Mix 3 to 4 Tablespoons cornstarch mixed well with water add to sugar mixture use blender.
Pour sugar mix into kettle when milk and butter comes to a boil stir until thick if needed to thicken more can use more cornstarch mixed with water (thin).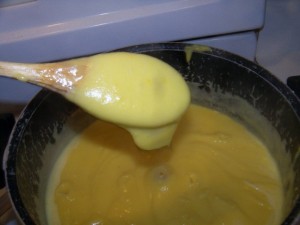 Have a Large OVEN SAFE bowl ready and waiting. Line the bowl with Vanilla wafer cookies. then get some bananas, about two. Slice and begin to layer. Cookies, banana custard  repeat.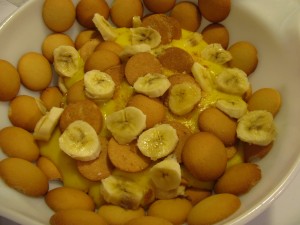 .
Start now making your meringue.. take egg whites and put a dash of salt in them.. start beating with mixer until start to stiffen..add a splash of vanilla and some sugar sparingly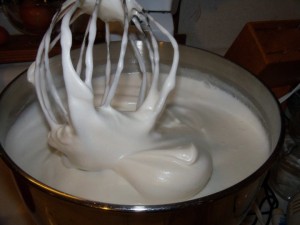 … put meringue over Pudding and put in oven uder BROIL… watch VERY CLOSELY and turn to get beautiful even browned top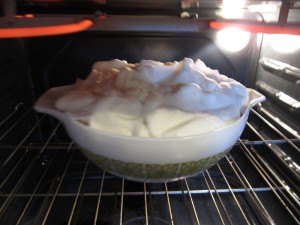 … WILL BURN IN A SECOND.. so watch close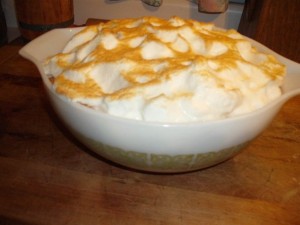 .