SERENA'S HAMBURGER PIE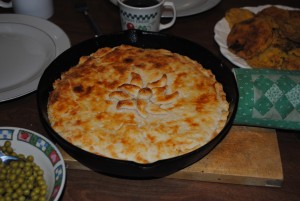 First you want to make a single pie crust so it can be chilling in the fridge
1 cup all purpose flour
1/4 tsp salt
1/3 c shortening
1 1/2 tsp white vinegar or lemon juice
2-3 Tbsp milk ( I use half and half)
In bowl combine flour salt and cut in the shortening till mixture is crumbly. Sprinkle with vinegar. Gradually add the milk. Tossing with a fork until balls are formed.
Make into ball and wrap in waxed paper, put in fridge to chill for 15 30 min or till easy to work with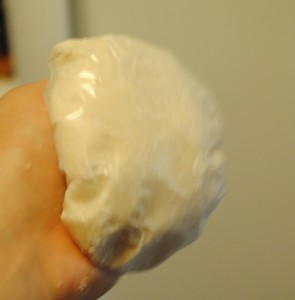 Next you need to peel about 4-5 potatoes and boil till soft so you can make mashed potatoes. (I actually put mine in a pressure cooker so I could get them done super fast)
once potatoes are tender you want to add butter salt and pepper. Mash them, then whip them and add a small amount of milk or cream… do NOT add too much milk we do not want these potatoes thin.
next add one cup of shredded cheddar cheese and mix.
Now take a cast iron skillet and brown around a pound to a pound to two pounds or so of hamburger.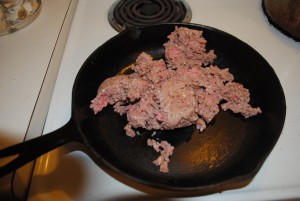 salt and pepper  the meat well and then add large slices of onion and bell pepper. I would have added more but my hubby is not as big a fan of onions and peppers as I am so add to your liking.. also if some of the family members do not like onions and peppers you can "arrange" the large slices on one half of the skillet before assembly.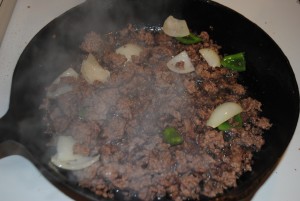 DRAIN the grease from the skillet carefully.. as it is very hot..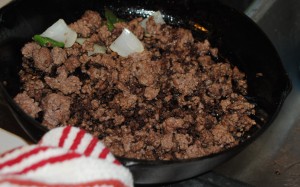 NOW take your mashed potatoes with cheese and pat over top evenly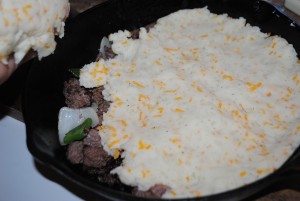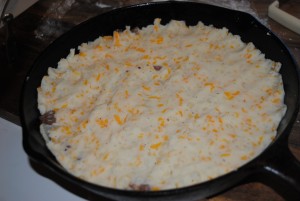 Once you have that done take out your pie dough that was chilling in the fridge, scatter bit of  self rising or all purpose flour on the board and roll out thin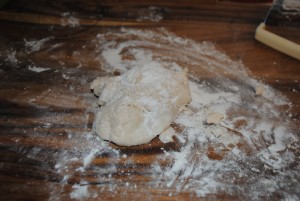 once vent holes are cut, roll up on rolling pin and place over the skillet.. don't fuss over it like you would a regular pie.. it doesn't have to be perfect your not going to do a edge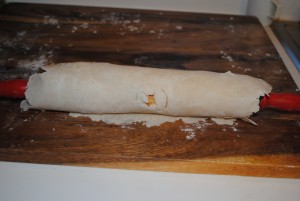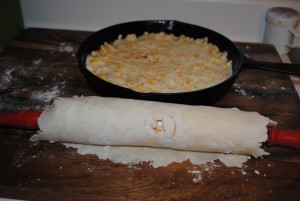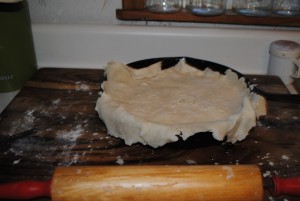 Now cut off the edge around  the INSIDE of the skillet not the outside like you normally would. You can do cut outs with the extra dough for decoration if you wish..
Take a egg white with tbsp water and beat then brush over top of your crust. Have oven preheated to 375 or 400 degrees.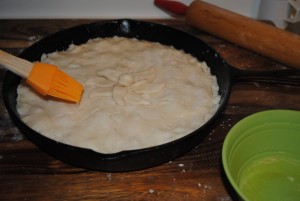 Bake in preheated oven about 20 minutes.. then turn on broil to finish crisping the crust.. but watch it.. take out.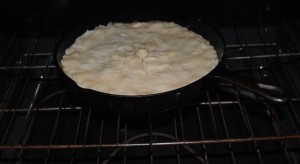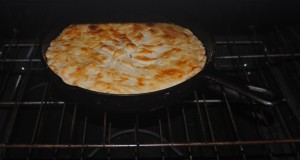 Let it rest a few minutes before heading to the table with it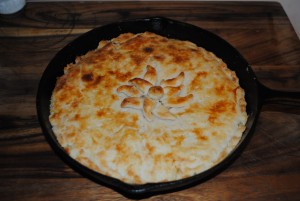 but make sure to put it on a wood block or something as cast iron retains heat for a while.. also have something for the handle, you don't want to forget and cut into your pie grabbing the handle. it's hot and  will burn your hand
now your ready to serve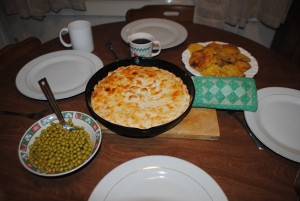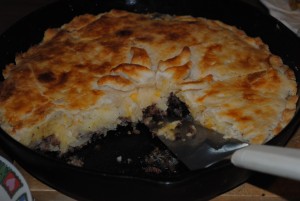 I served mine with simple fried green tomatoes and green peas with butter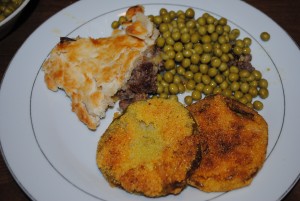 ENJOY!!!!
Serena =)