HAM BONE VEGETABLE SOUP
1 meaty ham bone
1 can chicken broth
1 can stewed tomatoes
three chopped celery stalks
2 bay leaves
1 family size can tomato soup
fill up tomato soup can with water
two cans of creamed corn
one can of corn drained
three cans green beans drained
black pepper
4 potatoes peeled cut large chunks
Parmesan Cheese
garlic powder
regular can tomato paste
Texas Pete Hot Sauce
Franks Red Hot Wings Buffalo Sauce
Macaroni Noodles (Small)
Serve with a pan of Sweet Southern Cornbread
Place Ham Bone, chicken broth, some water, celery, tomatoes and bay leaves in crock pot before bed. Put on low and let it go.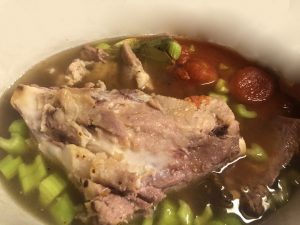 Next morning I take the bone out of the crock pot and any fat I can see.  Take Bay leaves out as well. Pepper well, add garlic powder, tomato soup, veggies, including potatoes cut large and let go on low..
when I get off work which is an 8 hour shift, I then will pull it all together.. I start by taking out some of the liquid if too oily, by spooning out top.. then I add in my tomato paste and stir it in well with whisk, careful not to tear up veggies. Season to taste, add  Texas Pete, a touch of Buffalo Sauce, Parmesan Cheese.
I boil some macaroni noodles on the stove till tender while I am making my cornbread.
Drain noodles and add to your crock pot. Taste..  Serve with hot cornbread.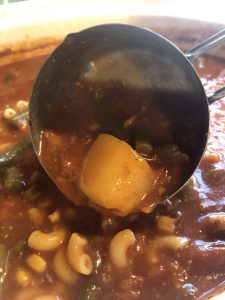 Note: This is a very rich Soup it has a lot of flavors going on.. sweet, savory, a hint of heat all going on at once.. not for everyone. My husband LOVES it..  it's not my favorite.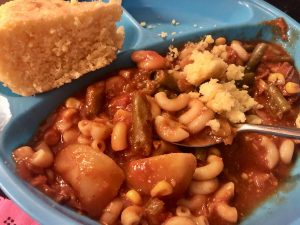 October 2023
M
T
W
T
F
S
S
« Sep
1
2
3
4
5
6
7
8
9
10
11
12
13
14
15
16
17
18
19
20
21
22
23
24
25
26
27
28
29
30
31