RECIPE AND PHOTO SUBMITTED BY Kath Hoelzlhammer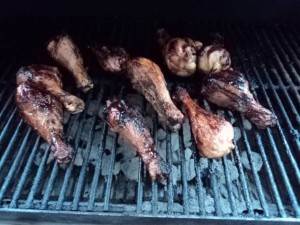 My favorite Chicken recipe is grilled, or should I say BBQed!
Chicken Pieces with or without skin, and BBQ sauce of your choice flavor or brand.
Start your grill, and let it heat up. I use charcoal . Add the chicken and cook 15 minutes then flip and cook another 15 minutes. Flip again brush on barbque sauce cook 15 minutes. Flip again sauce other side. The key to grilling chicken is cooking and flipping every 15 minutes, and cooking it at least 45 minutes total to not have raw meat. You will have a thin rim of reddish/pink on the outside edge.