this is a very easy and simple recipe.. but I assure you it is PACKED full of flavor.. you can just buy the canned corned beef.. don't add it till the end though cause you don't want it to cook away to nothing.. you want big chunks of it.. ..get your cabbage and onion and stuff tender first..
PHOTO'S AND RECIPE SUBMITTED BY MY MOTHER SHELMA (FARRUGGIA) ADKINS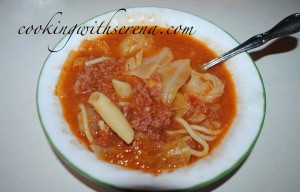 My grandmother's Recipe handed down to my mother and now to me
GRANNY BIB'S CORN BEEF & CABBAGE SOUP
Water
2 cans corn beef (red)
1 head cabbage cut up
1 lg. onion cut up
Lots Salt and Pepper
1 Can tomatoes with juice
4-5 peeled Potatoes cut up
can add noodles too if desire..
Add all ingredients to a very large pot, except for the corned beef.. that goes in Later (last five minutes of cooking) after the potatoes and onions ect…are tender. . .
Be sure and add plenty of water Boil till potatoes are soft. Salt and pepper to taste. DELISH!