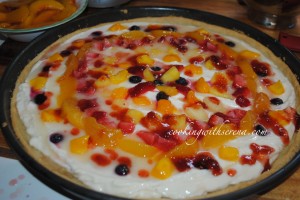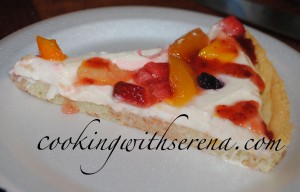 To make the sugar cookie use my old fashioned jumbo sugar cookie recipe  posted below OR you can use 2 tubes of pillsbury sugar cookie dough
My sugar cookie recipe
2 cups sugar
1 cup shortening
3 eggs
3 tbsp water or milk
3 level tbsp baking powder
1 tsp nutmeg
1/2 tsp cloves
3 cups flour
Cream fat and sugar
beat in whipped eggs and add baking powder and 1 cup of flour.
Then add in water and spices. Add remaining flour gradually  working in more flour until dough is stiff enough to roll.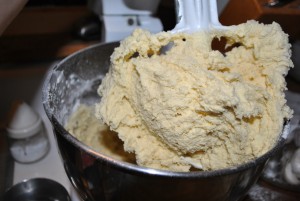 Sprinkle flour over pastry board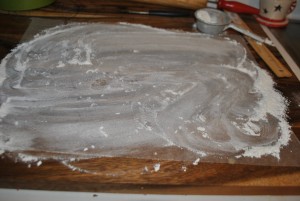 Make a ball of dough and lay it on the board. Rub rolling pin with flour and roll out dough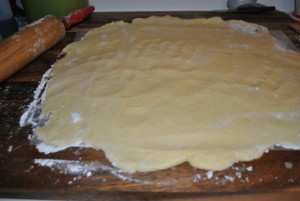 either way you do it homemade or store-bought.. press into sprayed  pan and  sprinkle granulated sugar over top before baking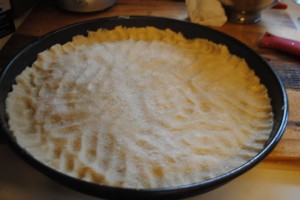 bake at 350 for about 15-18 minutes or till the edges are barely brown and its done.. then take out and let COMPLETELY Cool
I used two softened cream cheese (8 oz)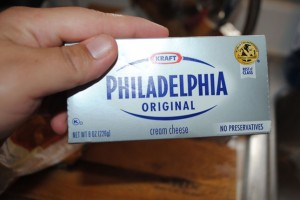 and 3/4 cups granulated sugar, mix well…… then again add 3/4 cup granulated sugar.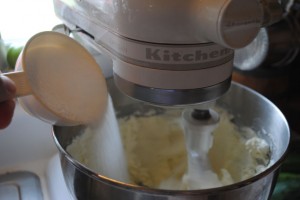 Add a capful of Vanilla extract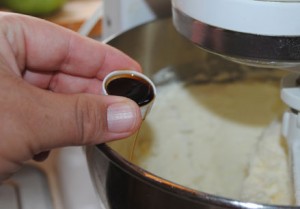 mix scrape sides with rubber spatula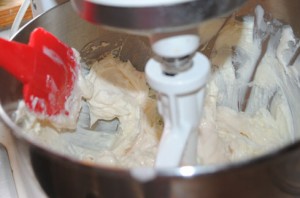 add in one cup of strawberry blended yogurt, mix well..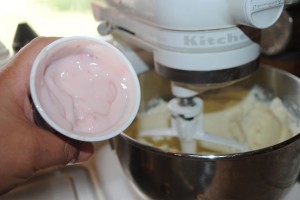 let cookie completely cool and then spread the cream cheese mixture over top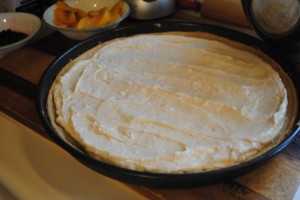 use ANY fruit you like or in my case, what you have on hand.. I had some frozen blueberries, strawberries, pineapple, mango, and a jar of my canned peaches in heavy syrup.
So I made my little design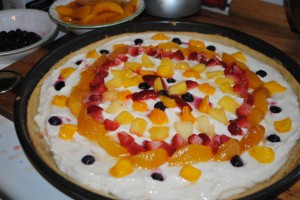 then took a little of my peach syrup and mixed with some confectionary sugar.. then sprinkled over top the cookie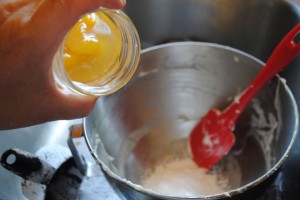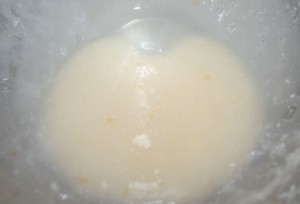 then good a little strawberry Jam and microwaved in a cup just till thin enough to pour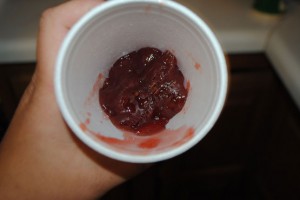 and I poured randomly over my fruit pizza..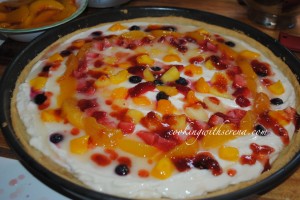 Now into the fridge to chill..
once completely chilled a couple hours later cut with pizza crust and enjoy