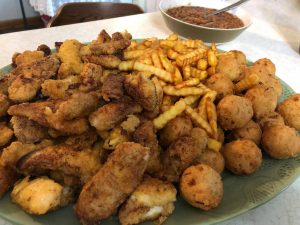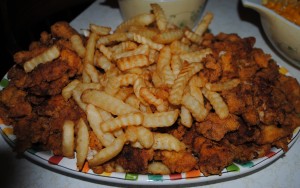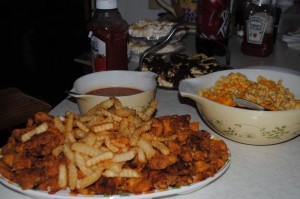 below are pics from where My hubby just got back from Santee Cooper SC on a fishing trip he brought home PLENTY of fresh catfish….
now to get me some good eat'n on…..
here we go  guy's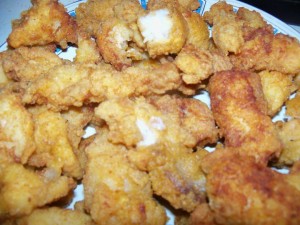 First clean your  catfish.. make sure you cut the Mud streak out.. which is the dark meat through the center of the filet (click here to watch a rough draft of us cleaning catfish up to fry http://cookingwithserena.com/?p=673394 )
then cut into chicken finger strip sizes.. before frying put in milk or half and half cream to soak…cuts the fishy smell of the river (we also get a lot of our catfish local too from our river) and cuts the fishy taste WAY down..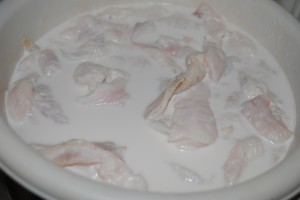 . THEN.. in a separate bowl put some self rising flour salt pepper and cajun seasoning. Mckormicks Cajun is the best but if you can't find it use some Andy's brand cajon seasoning.. but it is MUCH hotter than mckormick so you only use a little bit or you'll have it too hot..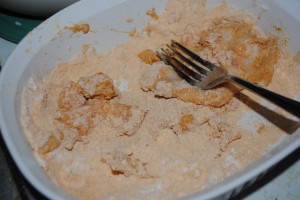 Get your chicken fryer hot and ready with about 3 quarters of an inch of veg oil. you'll know your fish is ready to go IN the fryer when you wet your hands and shake the droplets of water into the fryer and it SIZZLES real good… then it is ready.. dredge fish in batter and drop fish in.. .it will cook up quick. use fork to turn .. fish is delicate… fish should be crispy, firm but not hard when done….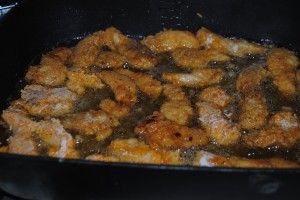 put on paper towels to drain or slotted pan to catch grease and keep fish from getting soggy… ENJOY with baked beans or pork n beans , homemade mac and cheese, and french fries for a light and fun summer meal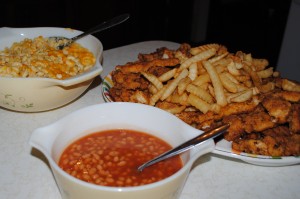 September 2021
M
T
W
T
F
S
S
« Jul
1
2
3
4
5
6
7
8
9
10
11
12
13
14
15
16
17
18
19
20
21
22
23
24
25
26
27
28
29
30