I have a staff "sweet treats" party tomorrow so I made my caramel popcorn! I have been making this since 1976 and it never fails to treat! Any recipe that starts with ONE POUND of butter has GOT to be good!!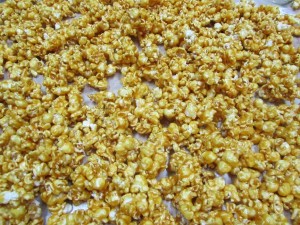 Francine's Caramel Popcorn
1 cu white Karo syrup
2 t. baking soda
1# of butter (4 cubes)
2 + 2/3 cu. sugar
1/2 t. vanilla
First pop 8 – 9 quarts of good popcorn and set aside. I use Orville's only. Also.. you need a large counter space (covered in wax paper) to spread this out once you pour/mix the caramel into it. To start I have the popped popcorn in my giant stainless steel crab cooker and it's cooled off. In the early years I also stirred it up in my turkey roaster, and at times in my big Blue Ball canner.
Mix all the ingredients (listed above) in the heavy pan/pot. On medium heat – gently boil the above butter/Karo syrup/sugar etc mixture in a heavy gauge pot (I use the lower part of my pressure cooker because of the heavy gauge metal). Getting the right color on the caramel might take 15 min or so. Just don't rush it. Simmer at a soft rolling boil until the caramel is a med. golden color. Don't leave the caramel – stir constantly. When it turns that deep golden color you know it's done. I don't use a candy thermometer when making this.
Pour and fold the hot caramel into the popped corn and keep flipping it over and over until the popcorn is evenly coated with the caramel. It's best to use slotted spoons and sort of fold (not stirring)so you don't crush the popcorn. I do make hub help and as he sort of rolls the popcorn over and over I just keep pouring ribbons of the caramel into it.
THIS STUFF IS LIKE HANDLING MOLTON LAVA SO BE CAREFUL when first handling it! Then pour it out onto the waxed paper. Initially, I use two slotted spoons to keep tugging it apart as it cools. Once it's allll poured out (and cool enough to handle with clean hands) I starting hand turning and breaking the pieces into mouth size bites. THEN I'll keep turning and separating about every 30 min until it's no longer trying to stick to the wax paper, and the pieces stay apart.
This is a labor of love, but really really GOOD!.