I made these cookies today from a recipe a friend from church told me about but I modified it a little to suit my diabetic needs. I substituted the sugar for Splenda and added a teaspoon of vanilla. They really aren't bad at all…and taste really good. The only sugar in them is from the peanut butter….and no flour. Also, I only had crunchy peanut butter on hand so I used that instead of natural or creamy. Very good!! Here's the recipe if anyone would like to try them for yourself. Thank you Manda Fletcher for the basic recipe.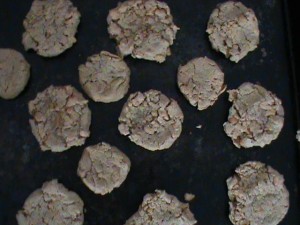 FLOUR-LESS LOW SUGAR PEANUT BUTTER COOKIES
Ingredients
1 cup natural peanut butter
1 cup splenda
1 teaspoon pure vanilla extract
1 large egg, lightly beaten
Directions
Preheat the oven to 350 degrees F
In a medium bowl, mix the peanut butter, splenda, vanilla and egg until well combined.
Spoon 1 tablespoon of the mixture about 1 inch apart onto ungreased baking sheets.
Flatten the mounds with the back of a large spoon.
Bake until golden around the edges, about 10 minutes.
Transfer to racks to cool. Repeat with the remaining dough.