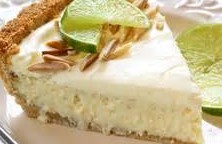 RECIPE SUBMITTED BY Joanna Stringer Goff
Easy Key Lime Pie 9″ pie crust, store bought or homemade
2 (14-oz) cans sweetened condensed milk
1 cup lime juice (Key lime or regular)
1 tsp Key lime extract
2 large eggs
2 egg yolks
1 Tbsp lime zest
Directions
1.Poke some holes in the bottom of your pie crust and bake in a 400 F oven for about 8 minutes, or until the crust has begun to brown. Remove to cool, and lower the oven temperature to 325 F.
2.In a large mixing bowl, combine the condensed milk, lime juice, extract, eggs and egg yolks and whisk together until well blended. Stir in the zest.
3.Pour this mixture into the cooled pie crust, then bake in the oven for about 15 minutes, or until set. Allow to cool, then chill in the refrigerator for at least two hours before serving.
4.Serve with whipped cream.