EASY DELICIOUS FAST – APPLE DUMPLINGS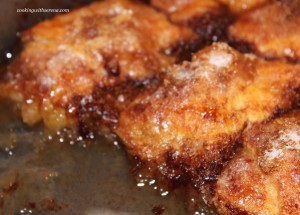 This is easy.. delicious.. and fast!  Perfect for those winter nights… stock up on ice cream.. ' )
Ingredients:
2 (8 oz) cans flaky refrigerated crescent roll dough
2 large apples, cored and peeled (any kind will do, tart works well)
1 stick butter
1 ½ cups granulated sugar
2 tsp vanilla extract
1 tsp ground cinnamon
6 oz lemon-lime soda like 7 up, Sierra Mist, or Mountain Dew will work.
Topping:
Brown Sugar
Cinnamon/Sugar shaker
Instructions
Preheat your oven to 350 F.. Spray a 9×13 pan with non-stick spray.
Slice the cored and peeled apples into eight wedges. Open one of the cans of crescent rolls and carefully unroll it. Separate the 8 triangles from each other. Place one apple slice on the wide end of the triangle, then roll up like a crescent roll Tuck the ends around the apple slice to completely enclose it.
Place in the baking pan and repeat till all apple wedges are covered.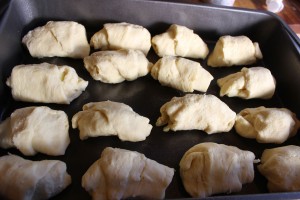 Place the butter in a large microwave safe measuring cup and microwave until melted, about a minute. Add in the sugar, vanilla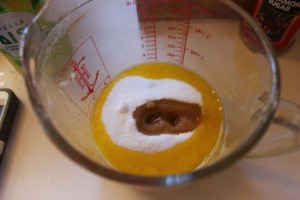 and cinnamon,  mix well with fork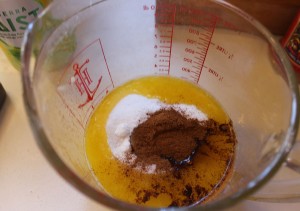 Pour evenly over the dumplings in the pan.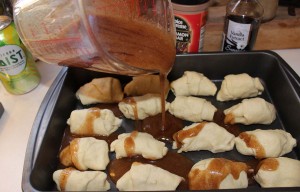 take some brown sugar, didn't measure, maybe a tsp each and put directly over top each dumpling .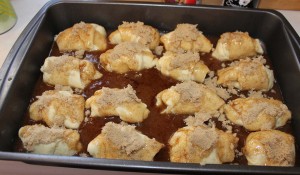 sprinkle tops with cinnamon sugar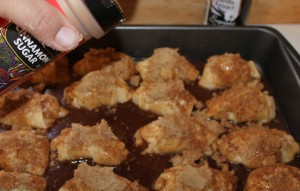 Pour the soda  around the edges of the pan.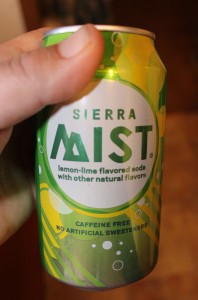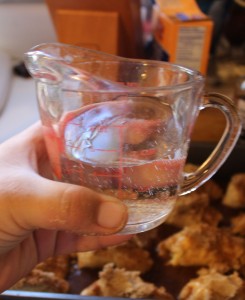 Bake at 350F for 35-40 minutes, or until the crescent rolls are golden brown on top.
take out and let sit until syrup has cooled enough to eat..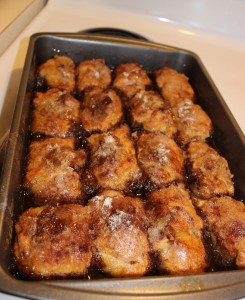 Serve warm with vanilla ice cream as a dessert or serve as a breakfast pastry with coffee.. very delicious.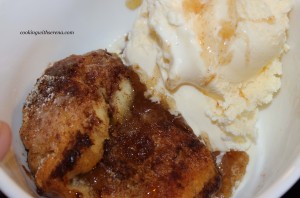 this was my breakfast Sunday Morning.. =) yum