Okay so I and my family are HUGE fans of bread pudding.. Mom's recipe is the best ever but we always are trying out new bread pudding recipes when we come across them…. This one is called Duff's Bread Pudding that I tried today.. but I do not think it is the real Duff's Bread Pudding Recipe .. I have had Duff's Bread Pudding before years ago and this was NOT IT.. disappointed!
I made a few changes, the biggest being I doubled the recipe .. because I had a LOT of bread to use up that was going stale, (some white sandwich bread and some hot dog buns I didn't want to waste) so I had a lot more bread than was called for the recipe so I doubled the recipe so I could even it all out.. worked out great.. Also I toasted my bread in the oven first like I always do in all my bread pudding recipes so I can have nice fluffy bread pudding not soaked down globs.. I added some white sugar to the bread before I put it under the broiler.. … So the bread pudding part was beautiful and fluffy and would have been a hit, had I not used the nasty nutmeg sauce this recipe calls for. ..my only complaint is I did NOT like the nutmeg sauce recipe from this recipe.. If I ever make this again I will definitely use my mom's hard sauce.. the nutmeg sauce was not good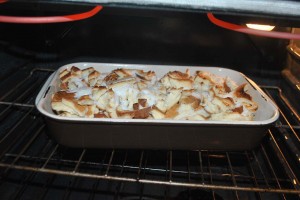 once toasted I took I took it out to start adding the rest of my ingredients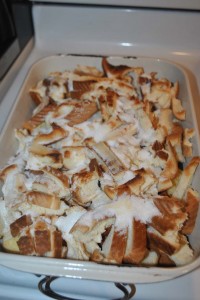 First I started on one end and worked my way down as I poured the 2 cups of warm water over the bread
I then in the same fashion started at one end working my way down pouring 2 cups of some french vanilla creamer over top of the bread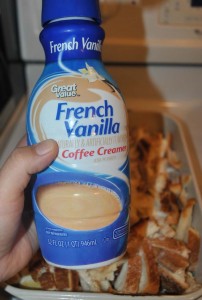 I then sprinkled cinnamon over top the bread
Next I melted my butter ( I used a whole stick ) and I took my six eggs beaten, 1 cup of granulated sugar, 2 tsp vanilla extract
1/2 tsp salt, and we like a lot of raisins so I used about  1/2 cup or more and I mixed all together then poured over top my bread pudding starting at one end and working my way down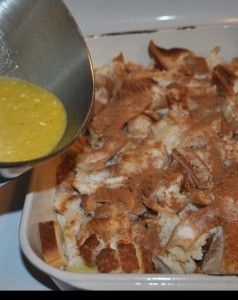 Next I put into the oven and I baked it at 325 for 45 minutes took out and put the DOUBLED recipe of Nutmeg sauce over top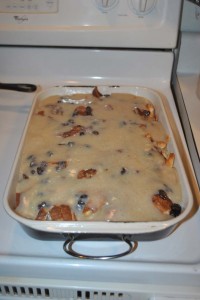 and let it set a little before cutting..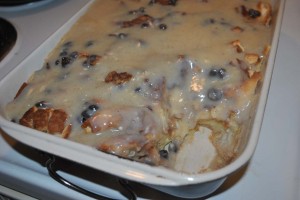 and soon watch it disappear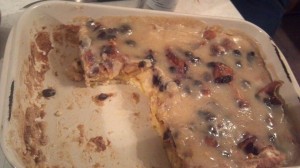 Serve warm with Vanilla Ice Cream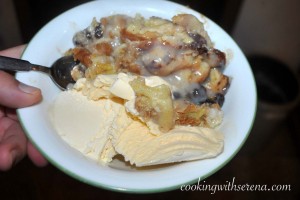 Enjoy!
Original Recipe posted below unchanged.. (I doubled it) ..
Duff's Bread Pudding
Source: Duff's Buffet – Missouri
1 cup warm water
1 cup non-dairy creamer
3 eggs
1/4 cup butter
1/2 cup granulated sugar
1 teaspoon vanilla extract
1/4 teaspoon salt
4 slices white bread, cut into 1-inch squares
1/4 cup raisins
Cinnamon
Combine water and creamer. Add butter. Beat 30 seconds. Add sugar, vanilla extract, eggs and salt. Beat at high speed 1-2 minutes. In ungreased casserole dish place 1 1/2 cups of the mixture and sprinkle with raisins. Add bread. Toss lightly and pour remaining mixture evenly over the bread. Sprinkle lightly with cinnamon. Bake at 325 degrees F for 40-45 minutes. Cool and top with Nutmeg Sauce.
Nutmeg Sauce:
1/2 cup granulated sugar
1 tablespoon cornstarch
1/2 teaspoon nutmeg
1 cup milk
1/4 cup butter
1 teaspoon vanilla extract
In small pan combine sugar, cornstarch and nutmeg. Stir in milk and butter. Cook over medium heat until mixture starts to thicken slightly. Add vanilla extract, and stir constantly until thick. Do not boil. Remove from heat and pour over cooled bread pudding.