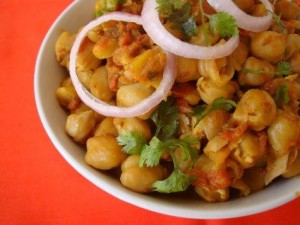 Ingredients:
For boiling:
250 gms chickpeas (soaked overnight or for 8 hours)
a stick of cinnamon, approx. 3 inches long
5-6 cloves (spice)
4 green cardamom pods
1/2 tsp soda
1 tea bag
salt to taste
For the masala:
1 onion, finely chopped, 2 green chillies and 5 cloves of garlic, ground to a paste (alternatively, use ginger-garlic paste)
1 tsp red chilli powder
1/2 tsp turmeric powder
2 tsp amchoor powder (made from dried and unripe mango)
1 tsp cumin powder
oil
salt to taste
Also, for garnish etc:
2 onions, chopped in rings
1 tomato, finely sliced round
4 green chillies, cut long and thin
some ginger, cut long and thin
half a lime
coriander leaves
1.Put the chickpeas on to boil, adding all the other ingredients for boiling like the spices, teabag, soda and salt. (If using a pressure cooker, 2 whistles should be enough)
2. Once the chana is boiled, remove all the spices and the teabag and strain the water. Take out 1/4 of the chana and mash it partially. Mix with the rest of the chana.
3. Heat a pan with 2 tbsp cooking oil, and put in the finely chopped onion, and the ginger-garlic paste and saute until light brown. Put this mixture onto the chana, and now put the onion and tomato rings on top, along with the chopped chillies and ginger.
4. Heat the pan with 4 tbsp oil, and put in all the dry masala powders once the oil is very hot. The masala should have a burnt brown colour and a smoky aroma soon. Now mix the masala into the chana, using your hands to shake the vessel (don't use a spoon).
5. Squeeze some lime juice on top along with some coriander leaves.
Your dry chana masala is ready!
The recipe might look slightly daunting because of the indian masalas and spices but they're found in every Indian kitchen and should be readily available, even in pre-mixes at any Indian food store!
July 2022
M
T
W
T
F
S
S
« Jun
1
2
3
4
5
6
7
8
9
10
11
12
13
14
15
16
17
18
19
20
21
22
23
24
25
26
27
28
29
30
31