Recipe Source By- http://www.simplysogood.com
Felicia Lisa wrote– I posted the "Simply So Good: Crusty Bread recipe in here a couple days ago (look down a few posts) and promised I'd let everyone know how it went. I had to improvise, but found that I easily made a mock dutch oven by inverting my cast iron frying pan over my cast iron chicken fryer.
FEAST YOUR EYES ON THIS!! Easiest bread I've ever made – it has a thick chewy crust on it as good as San Francisco French bread! And.. I was raised in SF so I know this! I would like a tiny bit more sour dough flavor, but if you're a baker you need to try this once. She has some variations of this with cheese, and other additions that I'll for sure be trying. I used regular yeast… didn't even proof the yeast (that's the part I missed). According to the recipe if you're not using instant or quick rise yeast you should proof your yeast. Oops.. missed that… I set the bowl near the wood stove last night before going to bed (it's nice and warm there). And.. with almost no effort…here's the end product, A wonderfully rustic Artisan like bread!
Crusty Cast Iron Baked Bread
3 cups unbleached all purpose flour
1 3/4 teaspoons salt
1/2 teaspoon yeast
1 1/2 cups water
In a large mixing bowl, whisk together flour, salt and yeast.
Add water and mix until a shaggy mixture forms.
Cover bowl with plastic wrap and set aside for 12 – 18 hours.  Overnight works great.
Heat oven to 450 degrees.
When the oven has reached 450 degrees place a cast iron pot with a lid in the oven and heat the pot for 30 minutes.
Meanwhile, pour dough onto a heavily floured surface and shape into a ball.
Cover with plastic wrap and let set while the pot is heating.
Remove hot pot from the oven and drop in the dough.
Cover and return to oven for 30 minutes.  After 30 minutes remove the lid and bake an additional 15 minutes.
Remove bread from oven and place on a cooling rack to cool.
Notes from Felecia Lisa
In my bread picture above.. I had doubled this recipe I just shared. I baked it at the normal 450° but increased the covered baking time to 40 min. Then pulled off the cover and only baked it another 10 to crust it up. It was baked in my two large cast iron frying pans with one inverted over the other. My faux Dutch oven works well. I don't do all that flouring up and resting on the counter top. I put a piece of parchment paper into a either a pie pan (for the baby loaf) of a med size frying pan (for the double sized loaf).
I lightly dust that with flour.. I scrape the dough into the resting container.. dust it with flour.. cover it with plastic wrap and let it rest for 30 min. When my baking container has preheated I just slide the piece of parchment paper right into the preheated baking container.
Cover it and bake. When using the standard recipe which makes the baby loaf I pretty much follow the recipe. LOOK closely at her photo tutorial. Learn to SEE what the "shaggy dough" is. Don't over work the dough. Kind of like biscuit dough.. you just stir it until it's all moist and mixed then STOP.
Other things I do. I know my oven temp is on the money – that helps a LOT with reliable baking times. I use good heat gloves or you WILL end up burning the poop out of yourself at least once. I got my oven gloves at Big Lots for $5.00.. they work GREAT. You do start to feel the heat after about 40 seconds but by then you have set your pan down somewhere.
You will be mind blown. The first time I made it.. I worried I'd see a CHARRED lump when i lifed the top pan. It was just a gorgeous loaf of bread.. after I crisped up the crust the final 15 min i lifted the loaf with ease and just set it on a cooking rack. It was just a SNAP to make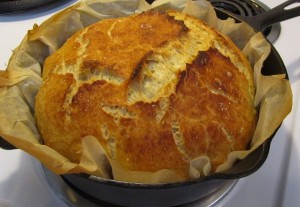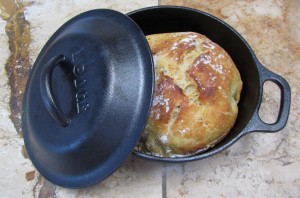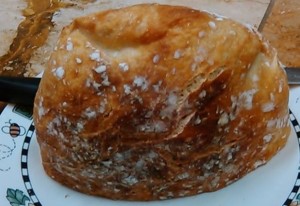 ONE LAST THING.. and I think it's a great tip. I love to try and keep the crust *crunchy*. If you put the bread in a Ziploc the crust softens. So… this is how I store it (if not freezing it). It's either on my counter or sitting up in the cupboard on a plate with the cut end down. Keeping the cut side down (flat) works sooo neat. We've left it like this for 3 full days..and even the heel is still moist and the crust is still crisp. There are no preservatives in this recipe so after 2-3 days it should be frozen.