Creamy Rigatoni Mac and Cheese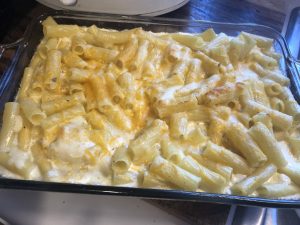 Recipe Submitted By Debby Adkins
This Mac n Cheese is a local favorite at one of our bbq joints here in Atlanta. Owners shared their recipe so I am sharing my screenshots in the comments. My favorite food is M&C and this one is my all time fave!! The big rigatoni noodles holds all the cheesy cream with each bite.
*Make sure you read this recipe and prepare your cheese first. I always add extra cheese to mine. I also sprinkle garlic salt on top (optional)
1 16oz package Rigatoni
salt
1 whole quart of heavy cream
shredded cheddar cheese
shredded Monterey Jack
shredded Parmesan
butter 9×13 glass baking dish
preheat oven to 350 degrees
Prepare Rigatoni as package directs. water should be salted to where it tastes like sea water.
Cook pasta just until done and drain. Do not rinse.
Immediately put in large mixing bowl (I just return to hot pot)
add 1 cup of cheddar, 1 cup of Monterey Jack, 1 cup of parmesan (I also added 1 cup of white cheddar as well)
sprinkle top with a little more of the cheeses and a touch garlic salt
Dish may be prepared ahead at this point and refrigerated up to 2 days.
when you are ready to serve bake 20 minutes or until bubbly
and top is lightly browned.