COWGIRL COOKIES
1 1/2 cups unsalted butter (3 sticks)
2 cups light brown sugar
1 cup granulated sugar
3 eggs
1 tablespoon vanilla
2 teaspoons baking soda
2 teaspoons coarse sea salt
3 cups flour
3 cups old fashioned oats
2 cups shredded sweetened coconut
2 cups semi sweet chocolate chips
1 cup mini M&Ms
1 cup dried cranberries
Instructions
Preheat oven to 350°F. Line your baking sheet with parchment paper and set aside.
In the bowl of your stand mixer fitted with the paddle attachment, mix the butter and both sugars together on medium speed for 2 minutes, scraping the sides of the bowl as necessary.
Add in eggs and vanilla and mix until combined, about 1 minute.
Turn the mixer to low and add in the baking soda, salt and flour until incorporated.
Next add oats and coconut slowly.
Finally mix in the chocolate chips, white chips, M&M'S and raisins until evenly combined. Batter will be thick.
Using a large cookie scoop (3 tablespoons) drop the dough onto the prepared baking sheet.
Bake for 13-15 minutes until the edges are lightly golden and tops are just set.
Allow the cookies to cool on the baking sheet for 3 minutes and then transfer them to a wire rack rack to cool completely.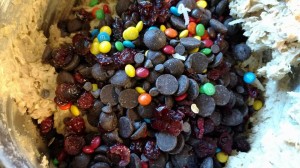 NOTE: The original recipe called for white chocolate chips and raisins. I subbed in another cup of regular chocolate chips and dried cranberries. Be sure to get the big chunk salt – like pretzel salt.