This Chocolate Candy Bar Fudge Cake is easy and delish!
You can use my Dark Chocolate Cake recipe below for the Cake or you can buy a Devils Food Cake Mix – No worries I do both.. its just according to how I am feeling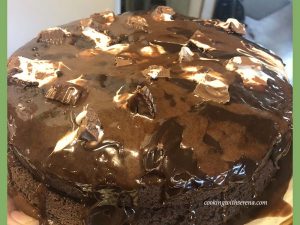 Dark Chocolate Cake
2 cups all-purpose flour
1 cup unsweetened cocoa
1 1/4 tsp baking soda
1/2 teaspoon salt
2 sticks margarine
2 heaping cups sugar
2 eggs
2 tsp vanilla
1 1/4 cups buttermilk
Preheat the oven to 350
mix flour, cocoa powder, baking soda and salt.
beat the butter with the sugar  add eggs, one at a time,  vanilla
alternately fold in the dry ingredients and the buttermilk, until just incorporated
Directions
So whether you decided to make the cake homemade or if you used a Devils Food Cake Mix , you now will pour your batter into two sprayed cake rounds and take about four frozen Recsee's Cup candy bars and chop them up and add on top of your cake batter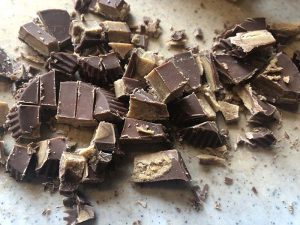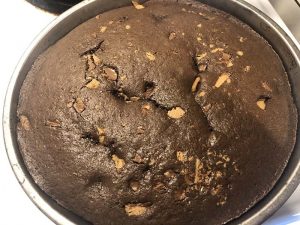 Pop the rounds in the oven at 350 degrees and bake until done to touch but still moist.
once done, turn one round  out onto a plate, while warm top with thick chocolate ice cream fudge topping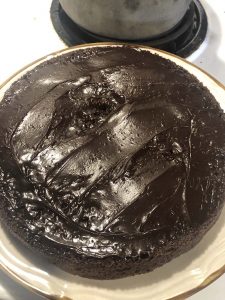 add some chopped Mallow Cup Bars over the fudge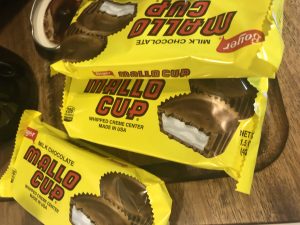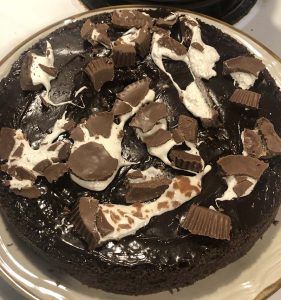 Place the other warm round on top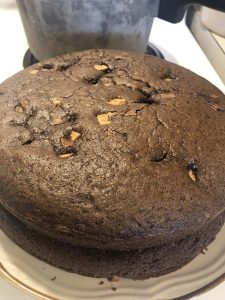 Make some thin Chocolate icing using confectionary Sugar butter cocoa little milk and vanilla we aren't making but a little bit .. just enough to pour over like a ganache
add a little more milk to make it runny because your going to pour it over the warm top
add the rest of your fudge topping to the top and then add some crushed mallow cup