RECIPE  AND PHOTO SUBMITTED BY Rosetta Sperring
Rosetta is in my Tried and True Recipe Group on Facebook and she has her own blog.. please check it out… http://rosettassweettreats.wordpress.com/
If anyone has any turkey left over or frozen, here is a great recipe for Chicken Tetrazini that you can substitute turkey in place of chicken, and chicken broth for the broth you would normally use when making Chicken Tetrazzini. The photo below is using turkey in place of chicken. I think this recipe is really good using the turkey, but it's even better using chicken. I've been making this recipe since 1989 when I got the recipe from a cookbook in 1989 called: The Good Housekeeping Illustrated Cookbook. I've been asked for this recipe many times.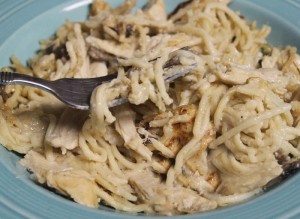 Chicken Tetrazzini
2-2 ½ to 3-pound broiler-fryers
2 small onions
¼ teaspoon pepper
Salt
Water
1 – 16 ounce package spaghetti
½ cup butter
½ pound mushrooms, sliced
1 Tablespoon lemon juice
½ cup all-purpose flour
¼ teaspoon ground nutmeg
Paprika
½ cup dry sherry (optional)
1 cup half-and-half
1–3-ounce jar grated parmesan cheese
In 8-quart pot, place chicken, 1 onion, pepper and 1 tablespoon salt. Cover with water. Cook on high to boiling; reduce heat to low and simmer (covered) for 30 minutes or until fork tender. Remove chickens to a large bowl. Strain chicken broth, reserving 3 ½ cups (4 cups if sherry is not used). When chickens are cool, remove meat in large pieces and discard bones and skin. Cut chicken in large chunks; set aside. After preparing spaghetti as label directs, drain in a colander and spread evenly in a greased 13" by 9" baking dish. Chop remaining onion. In a 4 quart saucepan (over medium heat) melt 2 tablespoons butter. Sauté onion, mushrooms, and lemon juice in melted butter for 5 minutes. Remove to a medium bowl. In same saucepan, melt remaining butter. When hot, stir in flour, 2 teaspoons salt, nutmeg and ½ teaspoon paprika until smooth. Gradually stir in sherry and reserved chicken broth and cook, stirring until liquid is thickened. Add half-and-half, chicken chunks, and mushroom mixture and over low heat, stirring just until mixture is heated through. Spoon chicken mixture over spaghetti in baking dish. Sprinkle with grated Parmesan cheese and add a little paprika. Bake in 350◦ oven for 30 minutes or until spaghetti and chicken mixture are thoroughly heated and surface is golden and bubbly.