CI FLAKY CRUMBLE CRUST – DEEP DISH PIE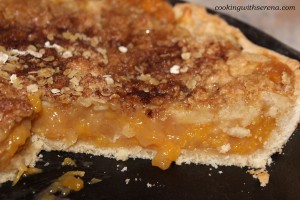 Flaky Southern Crumble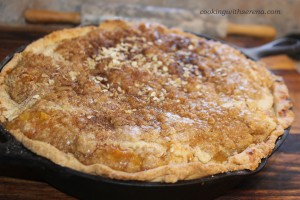 Flaky Pie Crust Dough
1 1/4 c All Purpose Flour
1 Tbsp Sugar
1/4 tsp salt
1/2 cup cold butter cut into cubes
3 Tbsp Ice Water
*NOTE : Can do by hand or with Food Processor… Personally with this Pie, I make several crusts so it is quicker to use the food processor .. but either way is easy.
simply add all dry ingredients, pulse (or stir) then add in cubes of butter pulse 8-10 times (or if by hand use pastry cutter or forks until pea size balls) then add in ice water, pulse 10-12 times (or if by hand tossing with fork or pastry cutter until all is moist and dough starts to pull together) do not over mix or dough will be tough.. under mix and will be too crumbly and will be hard to work with.
Once dough is ready, gently take out and place onto waxed paper and flour your rolling pin. Flaky crust must be rolled out right away and should not be put up for refrigeration..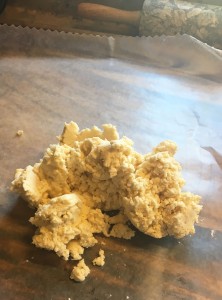 *NOTE : I am actually using a larger size Cast Iron Skillet (10″) so I actually made two flaky pie crusts for the bottom..   you will need one more for top plus my crumble. so in all you will be making this Flaky Crust Dough 3 times if your doing a large CI Skillet like I did.(Bakers Tip) For me when I am making my dessert and I am also making dinner at the same time, the Food Processor makes it a quick and easy process.
Prepare your CI Skillet by spraying or buttering and flouring lightly.
Using two pie crusts rolled out into one you will line your 10″ Skillet and line sides. all the way up.. don't worry about how it looks, this pie is rustic and there is nothing fancy about it.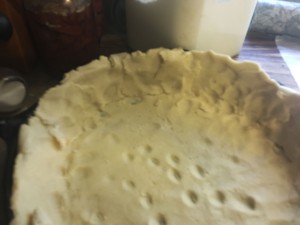 Fruit Filling
I honestly don't measure this part.. I kinda just go with how big a pie or cobbler I am making & what fruit I have on hand.. ..So today I had some Chopped FreeStone Peaches in individual  4.4oz Cups, like a whole bag of them that I needed to use up. I guess maybe it filled my sauce pot half way.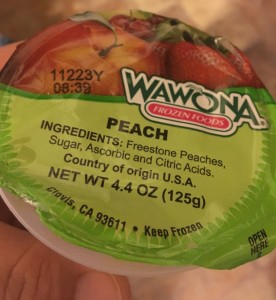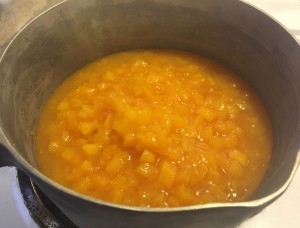 add 1/4 tsp salt , 1 c sugar, Tbsp cinnamon, Tbsp Brown sugar,  2/3 c flour,
in cup mix 3 Tbsp cornstarch with equal amount of water and mix well.. pour into peach filling once bubbly .. stir well.. should begin to thicken. Taste.. adjust if needed.. turn off heat and pour into your waiting pie crust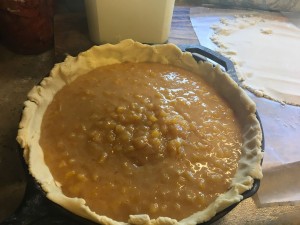 Make your Crumble.. have it ready to go before you assemble the top.
Crumble

Oats, white sugar,1/2 stk butter, Tbsp brown sugar, flour ..pulse in food processor .. add over top of lattice, spread with hands. Sprinkle straight sugar over and sprinkle a few oats
Put into Food Processor and pulse until it crumbles up..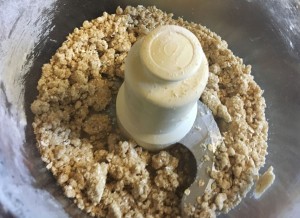 Pie Topping With Flaky Crumble Finish
Next you will roll out your 3rd flaky Pie Crust that you made, onto waxed paper. You will use a fluted pie cutter or a pizza cutter and cut into strips.. Weave across but hurry cause it is hard when your filling is so hot and makes the delicate pastry dough break and melt.. you must work quickly.. REMEMBER it does not need to look beautiful, don't stress… this will be all covered up .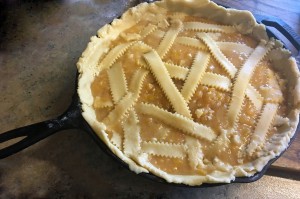 Once you have used up all your strips, weaving across up and down the Skillet, you will take your crumble and sprinkle all over using your fingers to break apart the huge chunks.. this should cover the whole pie.. then sprinkle with your fingers Sugar and a little cinnamon..and a few loose oats.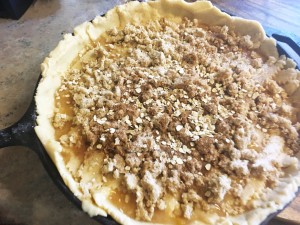 put into 350 degree oven and bake for 50 minutes. Take out and let pie set up and cool .. this will take a while, maybe three hours but it will be worth it when you cut it and your pie is gorgeous and thick..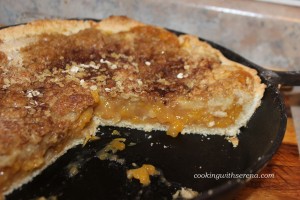 Enjoy by warming your slice and having with Vanilla Ice Cream.