Update … Today my sweet friend went home to be with the Lord Jesus.  At eighty eight years old.  I was fortunate to be right there in the room with my children and husband to tell her our last goodbyes and to give honor to God in my last prayer with Thelma, asking him to take her gently and painlessly .. less than five minutes later my request was granted. Thelma Leona Tincher Tolbert peacefully surrendered to leave this cold snowy day to enter into the warm loving glow of the Lord. We will never forget her. We will never be the same again.
Today is the day the Lord hath made..rejoice and be glad in it …for you are NOT promised tomorrow.
pictured below my family and me with Thelma on her 88th birthday
Thelma
More than a neighbor
more than a friend
How can I describe her
How can I even begin
Because of her
I can see
I can see God's beauty
all around me
From the moment I met her
I recognized she was a gift
Everything about her
made my spirit lift
Thelma taught me about life
How to make things last
Focusing on the future
but never forgetting the past
Her passion for life
was contagious to all
For hours I could listen
as her stories she recalled
And then there were our adventures
where we would roam the land
Me with my digital camera
and her with her old one in hand
She had a way about her
that made me look at everything brand new
A Rock wasn't just a rock
If you knew Thelma, your appreciation grew
She knew the Lord
and talked to him each day
and after eighty eight years
He took her home to stay
My heart knows
his plan is best
As for me, just for knowing her
I am surely blessed.
Written By Serena Ellison
I love You Thelma
Thelma Leona Tincher Tolbert
09-26-1926 – 02-18-2015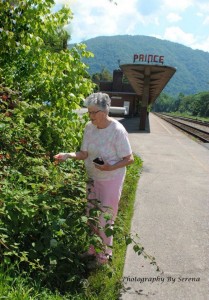 By now if you know me at all you know that my  neighbor Thelma Tolbert is one of my best friends. Never mind the fact that she is eighty six years old.
Thelma has many of the same interests as me. Nature  and experiencing all that WV has to offer is one of our main passions in life… A trip to Hinton for a hot dog or a trip to the flea market, whatever it may be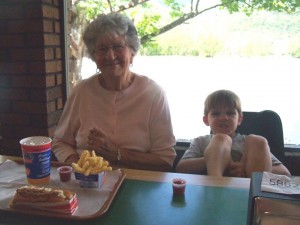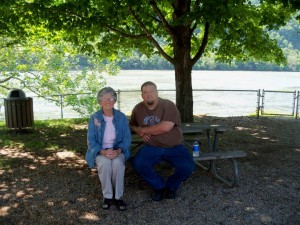 pictured below is Randy Jesse and Thelma watching the rafts set off for the rapids..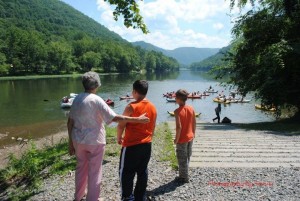 Randy Jesse Thelma at Hinton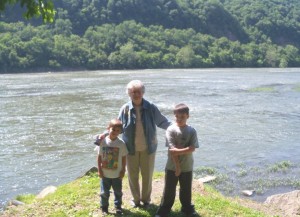 and Photographs for one, a passion for exploring the country with our cameras in tow as we squeal with delight at finding that "perfect shot"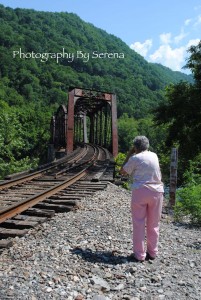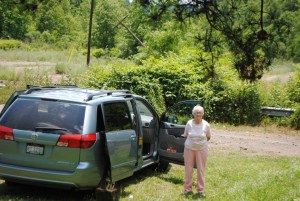 We enjoy history in a way not many can understand. Our State and Country's History as well as our family history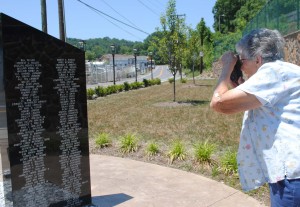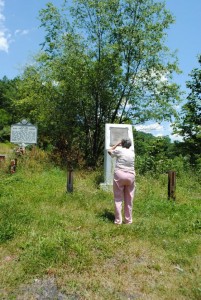 The family tree an ever exciting topic for discussion on both our ends… especially when one of us finds a new link to our families genealogy. I have to say Thelma is winning but she has had a lot longer to gather her research than I have.. LOL
We both have a weird hobby of collecting rocks… WE LOVE THEM.. (weird to some I guess. but not to us)
this was the day we drove down to Tams, where Thelma's husband had worked many years in the coal mines.. she wanted to collect a rock from this site to put with her collection.. See the rock is so much more than a rock.. it is a memory that you can touch and feel and  hold.. everytime you see that rock you INSTANTLY are reminded of the place it came from.. I remember just this summer watching Thelma cry tears of sadness all over again for her departed husband Gayle…. her love for him is still just as strong as it was sixty some years ago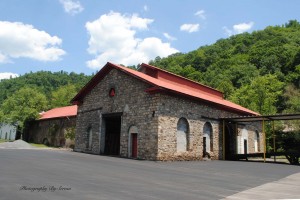 We also are lovers of a simpler time. And we have a vast collection of items from the past to prove it. We are ever on the lookout  to add to our collections of plates and glassware, or antique cookbooks and kitchen ware, knowing that somehow the neglected items of long past that we bring home will come to life once more in our homes.
(picture of Thelma's old Canner she still uses today)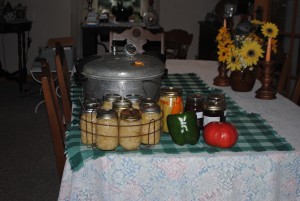 Story telling is a must.. I love to hear all her stories and I will write about them someday..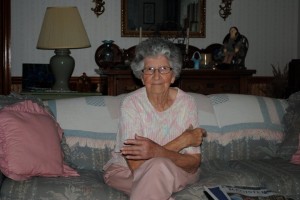 Although my mother and my grandmothers were my main influence for the passion I hold for cooking, I have to say that it was Thelma who gave me the love for gardening and preserving.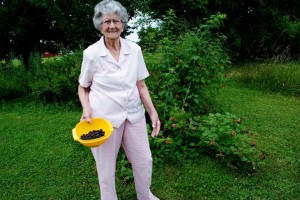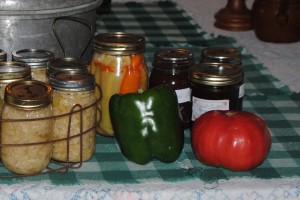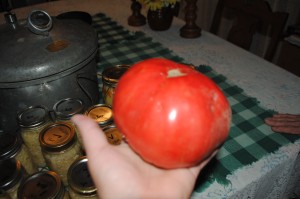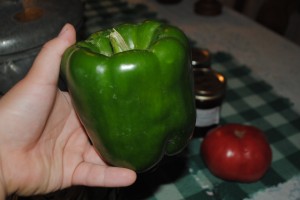 She taught me how to do my very first garden and I have never stopped since.. every year the garden grows just a little, now the tiny patch I started with is laughable.
Photo of my garden beside hers
Here Thelma is working as hard as usual
The times spent sitting listening to her tell me just exactly what to do to make my kraut, or homemade rolls and popcorn balls . These memories I will always treasure. And I tell her. While she is still with us. No need to wait till they are gone to tell someone what they mean to you.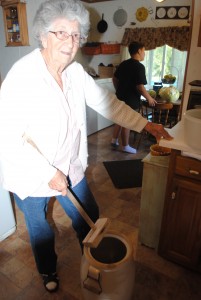 Pictured below is Randy and Jesse as babies getting her popcorn balls and you can see now they are still at it.. and SO IS PAUL hahahaha coming for those popcorn balls
Best of all we both like to talk about our Lord and Savior Jesus Christ.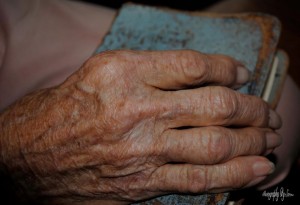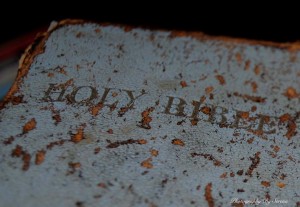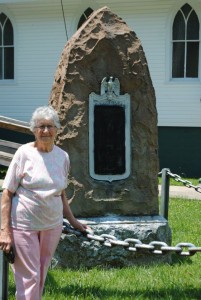 What more could a friend need?