CANNED WV BLACK BEAR MEAT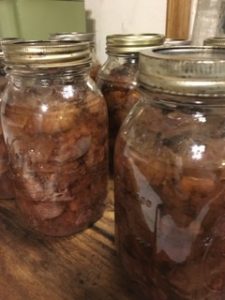 Take 7 clean, hot quart sized mason jars, and pack with cubed chunks of Bear meat , pack tightly in the jars leave 1 inch head space. Add 1 Beef boulion cube to each jar.
if desire may add 2 Tbsp Worcestershire Sauce
ADD NO WATER, the meat will make its own juice. wipe rims and place lids and rings.
I have the Huge canner that holds 7 quart jars, so I add about 3 quarts of water into my canner. Place jars in canner and put on lid. Once steam starts to come out let it come out good for 5 min and then put on weight. Let it cook at 11 lbs pressure for 1 hour and 30 minutes.
Cool down
enjoy as BBQ for with sandwiches Or you can have with biscuits and gravy or as a filler with veggie stew ect..
October 2023
M
T
W
T
F
S
S
« Sep
1
2
3
4
5
6
7
8
9
10
11
12
13
14
15
16
17
18
19
20
21
22
23
24
25
26
27
28
29
30
31