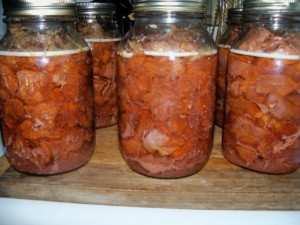 CANNED DEER MEAT
Take 7 clean, hot quart sized mason jars, and pack with cubed chunks of deer meat, pack tightly in the jars leave 1 inch head space. Add 1 Beef boulion cube to each jar. ADD NO WATER, the meat will make its own juice. wipe rims and place lids and rings.
I have the Huge canner that holds 7 quart jars, so I add about 3 quarts of water to my canner. Place jars in canner and put on lid. Once steam starts to come out let it come out good for 5 min and then put on weight. Let it cook at 11 lbs pressure for 1 hour and 30 minutes.
Cool down naturally.
Now anytime you are in a hurry you have instant cooked meat that is very tender and flavored.
My family really likes it with biscuits gravy applesauce and eggs for breakfast or with macaroni and baked potatoes for supper.  or  drained and heated with BBQ sauce makes excellent sandwiches.
… just a few of our favorite ways to enjoy it you may find you like it another way. LOL
Audrey Kirk says " I put put onion & mushroom in some of mine  before canning , to make steak hoagies."