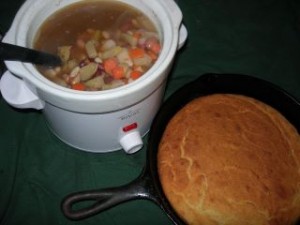 Bro D's Organic southern fine time dining meal .
Bro D's " Crunchkin Organic Corn Bread "
2 tsp organic shortening
2 cups Hodgson Mill organic yellow corn meal
1 tsp Clabber Girl baking soda
2 tsp Clabber Girl baking powder
1 tsp organic sea salt
1 tsp Hodson Mill wheat germ
1 tsp Organic honey
1 organic brown egg bbeaten
1 1/4 Stonyfield Organic whole milk yogurt .. or 1 cup organic butter milk
( I prefer the yogurt )
Mix as usual , get iron skillet smoking hot in oven at 450 degrees , then of course pour in mixture and let cook till top is brown . Let it sizzle good and there ya have your " crunchskin corn bread " .
(Organic 15 bean soup in photo above can also be found in the "Organic" category)