HOW TO COOK SALMON
Fillets  with skin on are very easy to work with.. Keep them frozen till the day or day before your going to use them.. they freeze well, these are individually wrapped for each fillet in this  2 lb bag.   Just remember when your ready to use your salmon DO NOT try and use microwave to defrost.. fish is very delicate and needs to thaw in the fridge naturally before use.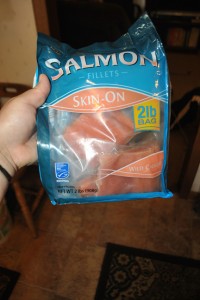 So Salmon you can do several ways and they will all come out delicious. You can Bake, Pan Fry, or Grill.  Today I actually Grilled some of mine and Pan fried some..
PAN FRIED SALMON
In the pan I am able to use some butter which will really get this fish tasting delish..I actually put a little olive oil in there too.. but be careful not to get heat too high as it will burn. .. I have some garlic, rosemary, salt, pepper, and lemon juice..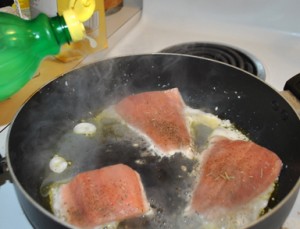 start on skin side and cook.. then turn, but be careful not to tear your fish up… Salmon is naturally pink so do not be dismayed thinking it is not don when it really is.. it will flake when done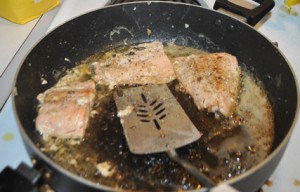 served this way is very flavorful and juicy .. a little more fattening than baked or grilled =)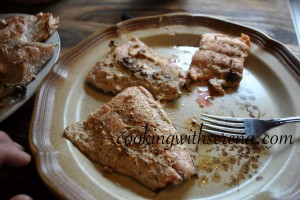 GRILLED SALMON
First pre heat your grill getting it very hot.. and you need to coat your salmon in extra virgin olive oil before taking them out to the grill
lay down SKIN SIDE down first… I usually do my fillets on the grill with pepper salt a shake of garlic powder  and  if you have it a squeezed lemon, I didn't use one today..
and grill until they "release" meaning at first they are STUCK and you do not try to turn them.. just leave them alone, let them do their thang..  they will release and be easy to turn over on the grill …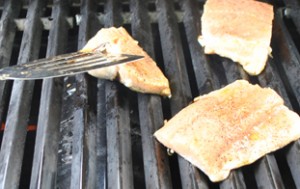 just like pan fried.. these will flake easily with fork when they are done.. and just the same , these have a pink color.. and YES they are done.. LOL..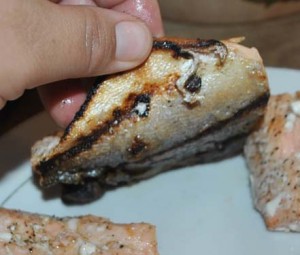 I actually like the grilled best I think.. it has such a wonderful taste and no guilt.. so much better for you.. the crisp skin is awesome on the bottom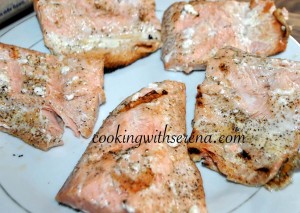 Serving Suggestions.. check out my Vegetable Pasta here on this website..goes AWESOME with Salmon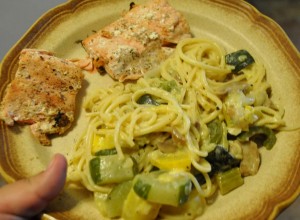 to bake a whole fillet you would do this recipe and it would come out nicely……
BAKED WHOLE SALMON
1 (6-7 lb.) whole salmon
4 tbsp. melted butter
1 tsp. salt
Pinch of pepper
2 tbsp. lemon juice
1/2 c. white wine
1/2 c. water
Cut a piece of aluminum foil large enough to wrap around the salmon. Brush the foil generously with butter. Brush both sides of the salmon with butter. Sprinkle fish with salt, pepper, and lemon juice.
Wrap the salmon in foil and place in a roasting tin or on a baking sheet. Allow 10 minutes per pound and 10 minutes extra. Pour combined wine and water over the fish after 20 minutes. (This will prevent the fish from drying out.) Remove from oven.