Next time you make Chili be sure and save the leftovers for the next day so you can make a Baked Potato N' Chili Casserole. Serve it up with some Salsa and some Sour Cream.. PS for an extra kick you can add a little Texas Pete Hot Sauce.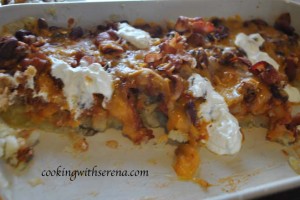 SERENA'S BAKED POTATO N' CHILI CASSEROLE
First wash  and scrub your large potatoes well. Preheat oven to 350 degrees. Puncture or slice potatoes in the middle and roll in olive oil.. salt well. Put a cookie sheet on bottom rack of oven.. and put potatoes on top rack.. so drippings will fall onto the cookie sheet below. Bake 1 hour  to an hour and 15 minutes.. depending on your potatoes. Just as long as they are done.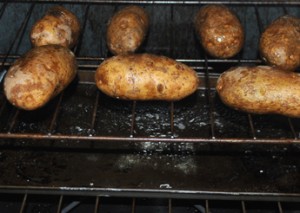 Have a heavy 9×13 Casserole dish or pan brushed lightly with olive oil
Fry a pack of bacon and let drain on paper towel till ready to use.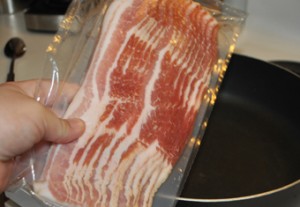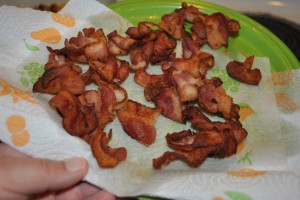 Once done take  potatoes out of oven and using fork smash down.. the skin should come off easily.. Pull skin and put to the side to discard.. you can keep skin if you desire but sometimes it can become tough .. your call.. I am taking mine off.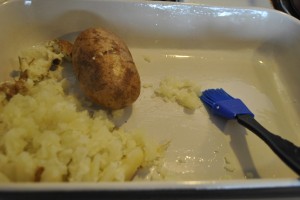 Now put tabs of butter all over the potatoes randomly .. salt heavily.. and using fork work butter into the potatoes…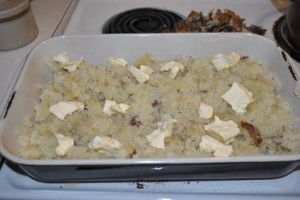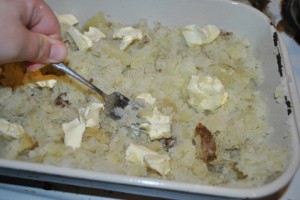 Now take some leftover chili and spoon over top of your potatoes..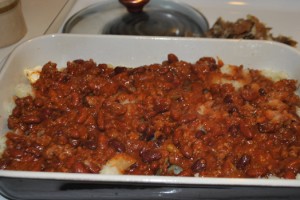 get one bag of Cheddar Cheese and use 3/4 of the bag.. leaving a tiny bit to use later…
Also I sprinkled a little mozzarella cheese but you don't have to do that.. I just keep it on hand most times so I use what I got …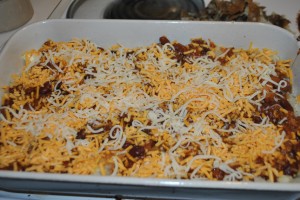 Now put your casserole in the oven and bake for 10 minutes or so.. just till cheese is melted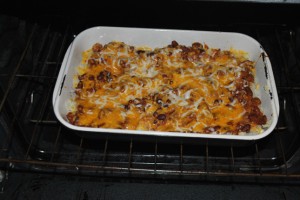 take out and sprinkle cooked bacon over top.. and add the rest of the cheddar cheese..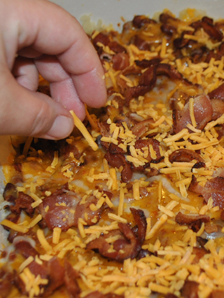 put in oven about 4 minutes..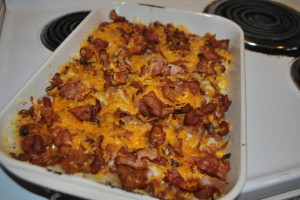 take out and serve with dollops of sour cream and chives if you have it.. Salsa and hot sauce adds to the dish as well. Enjoy!!!