Amish Mandarin Orange Cake
1 cup of  starter
3 eggs
2 cups of mandarin oranges with syrup
2 cups all purpose  flour
2 cups sugar
1 cup oil
1/2 cup milk
2 tsp baking soda
1/2 tsp baking powder
1/2 cup applesauce
2 Tsp Cinnamon
raisins (optional)
Nuts (optional)
1/2 salt
Topping (Optional did not do topping on mine)
3/4 cup brown sugar
3 T milk
2 T butter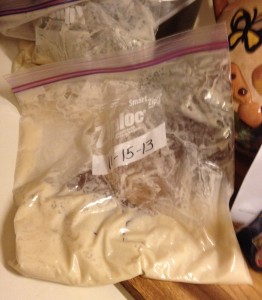 Add 1 cup of the starter
..Beat eggs. Add dry ingredients and oranges, nuts, raisins last.
Spray or butter a 9X13 cake pan. then sprinkle liberally with cinnamon sugar mixture then turn in batter to pan
Sprinkle cinnamon and sugar mixture to top of batter as well.. ending with more granulated sugar.
put into cold oven of 350 degrees
Bake for almost 1 hour.  You can tell when it is done..
To make topping, combine ingredients and bring to a boil. Slowly reduce. Pour topping over cake  and let set… I did not add the topping to mine this time.. it was not needed I like the crusty top with the moist inside
I LOVE the texture of this cake..