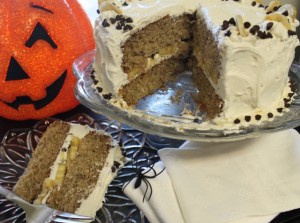 Banana Cake from the 1960′s era. Original recipe from a very small cookbook called: "Favorite Recipes" by the staff of Ephrata Community Hospital in Ephrata, PA. Recipe submitted by a Dawn Gehman who stated this was her sons most requested cake. Dawn stated she got the recipe from a neighbor, who probably got it from her neighbor! lol
Ingredients:
2 and 1/2 cups cake flour
1 teaspoon baking soda
1 and 1/2 teaspoons baking powder
1 teaspoon salt
1 and 2/3 cups sugar
3 large banana's (ripened)
2/3 cup butter
2/3 cup buttermilk
Directions:
Preheat oven to 350 F.  Lightly grease and flour 2 (9-inch) baking pans.
Sift dry ingredients together and set aside.
Cream butter and mix in bananas and mix well.
Alternately add dry ingredients into creamed banana mixture alternately with buttermilk.
Bake in pre-heated oven at 350 for 30 to 40 minutes or until a toothpick inserted in center comes out clean.  Do not over-bake cake.
Remove from oven and cool in pans for 10-15 minutes.  Remove from pans and let cool on wire rack.
Once completely cool, frost as desired.
I used an icing that's not too sweet, but just sweet enough to allow the banana cake to shine.
* I used dried banana chips to decorate the top, but inside between the layer are real slice bananas.
** I squeeze a little fresh lemon juice on the bananas first before adding them to the cake (between the layers).
*** I also sprinkled mini chocolate chips on the first layer before I put the banana slices on it.  I decorated the edges with mini chocolate chips and around the bottom of cake.
Calendar

June 2019
M
T
W
T
F
S
S
« Apr
1
2
3
4
5
6
7
8
9
10
11
12
13
14
15
16
17
18
19
20
21
22
23
24
25
26
27
28
29
30

Meta