Photo pictured  below is of my Zucchini Pineapple Pie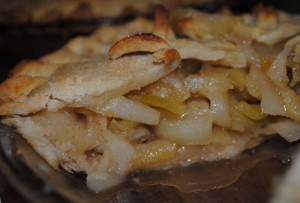 *Storing Pies and Pastry:
Keep pies with cream, custard, whipped cream or chiffon fillings in the fridge. Use within a day or so.
Store fruit pies at room temperature and use within 2 or 3 days.
Balls of unbaked pastry, wrapped in plastic wrap or foil may be stored in the refrigerator for a day or two.
FREEZING PIES AND PASTRY
Pastry:
Freeze balls of uncooked pastry, freezer wrapped, up to 2 months. Thaw, wrapped at room temp 2 – 4 hours.
Or roll pastry into circles 3 inches larger all around than pie plates, stack with 2 sheets of wax paper between each, wrap and freeze. To use, place circle on pie plate: thaw 10-15 minutes before shaping
Pie Crusts:
Freeze baked or unbaked pie crusts in their pie plates. Wrap then stack with crumpled wax paper between each. Store baked pie crust 4-6 months. Thaw, unwrapped, at room temperature 15 minutes.  Store unbaked crusts  2-3 months: bake without thawing either unfilled, for about 20 minutes in a 425 degree oven, or filled and baked as directed in the recipe.
Fruit Pies
Freeze baked or unbaked fruit pies 3-4 months. To freeze unbaked fruit pies, if fruit is very juicy, add 1-2 tbsp extra thickening per pie. Do not cut slits in top crust. Freezer wrap and freeze. Or if pie is fragile first freeze until firm then cover top with a paper plate for protection, freezer wrap and store. To use an unbaked fruit pie, unwrap, cut slits in top crust, and bake till frozen, allowing 15 -20 minutes additional baking time or until fruit is bubbling. Thaw baked pies at room temp 30 minutes, then bake at 350 degrees 30 minutes or until warm.
Pumpkin Pies
Bake pumpkin pies before freezing, or the crust may become soggy. Use within 4-6 months. Thaw as you would for fruit pies.  Or freeze filling and unbaked crust separately: thaw and complete pie as recipe directs.
Chiffon Pies
Freeze until firm, wrap and store. Use within 1 month. To thaw, unwrap and let stand at room temperature 2-4 hours, or in refrigerator overnight.
Don't freeze cream and custard pies, fillings may separate, or meringue topping, it may shrink