RECIPE AND PHOTO SUBMITTED BY Bonnie Carey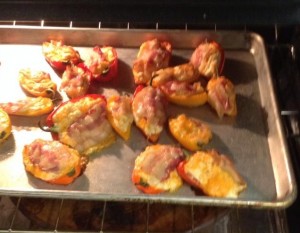 Sweet mini peppers stuffed with cream cheese and cheddar cheese, topped with bacon and baked at 350 for 1/2 hr…yummy!
I made my crusty bread recipe and made half of into buns…cut one in half and slid 2 of these stuffed peppers inside and OMGoodness!! Now that is a delicious sandwich!!
Calendar

April 2020
M
T
W
T
F
S
S
« Mar
1
2
3
4
5
6
7
8
9
10
11
12
13
14
15
16
17
18
19
20
21
22
23
24
25
26
27
28
29
30

Meta