RECIPE AND PHOTO SUBMITTED BY Amy Phillips Alford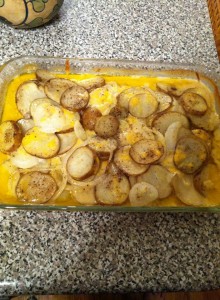 One dish pork chops meal.
4 to 6 chops bone in or out does not matter.
1 can cream of mushroom
I onion sliced
4 potatoes sliced very thin
1 cup milk
I cup shredded cheddar.
Brown your chops with what ever you like. I like either Mrs Dash or Emeril's Essence. Put them in a 9 x 13 baking dish. Mix your soup and milk together. Put in your remaining ingredients and coat very well. Pour on top of chops. 400 degrees covered for one hour. I take the foil off for about 5 minutes before I remove from the oven. I also salt and pepper the potatoes.
Calendar

April 2020
M
T
W
T
F
S
S
« Mar
1
2
3
4
5
6
7
8
9
10
11
12
13
14
15
16
17
18
19
20
21
22
23
24
25
26
27
28
29
30

Meta