HOMEMADE PIZZA SAUCE and 10 MINUTE PILLSBURY PIZZS DISH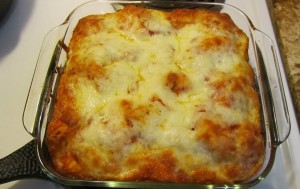 So….. it's done! It was very good! Hubby loved it more then Domino's pizza. I have to admit the flavor was good, but it wasn't very big. I also made my own pizza sauce which slowed the process down a little bit (but I made enough to freeze a batch of sauce). I baked it 26 min, but that depends on your oven. It called for greasing the pan and I did so with olive oil. Here's the pizza sauce I made:
Homemade Pizza Sauce
1 – 15 oz can tomato sauce
1 – 6 oz can tomato paste
1 – tablespoon olive oil
2 – cloves garlic, minced
1/4 – cup onion, minced
1 – tablespoon dried oregano
1 – teaspoon sugar
salt to taste
In a 10 – 12 inch skillet heat one tablespoon olive oil over medium heat. Add minced onion and garlic and sauté gently until the onion is translucent and tender. Remove from heat and set aside.
In a blender or food processor combine all the ingredients including the onion and garlic and pulse until the sauce is smooth. Pour in to a jar to cool and store in the fridge for a week, or use right away!
Next time I'll try sausage/mushroom/olive but I'll mix SOME of that into the sauce/cheese/dough mixture so there's more yummy goodies dispersed through the actual pizza. Also, I don't like Domino's pizza at all.. so… there was no comparing the two… LOL
Recipe for the pizza  came from pillsbury .com
1 can (16.3 oz) Pillsbury® Grands!® Homestyle refrigerated original biscuits
1 can (8 oz) pizza sauce
2 cups finely shredded mozzarella cheese (8 oz)
16 slices pepperoni (1 1/2 inch)
Cut each biscuit into 8 pieces; toss with pizza sauce and 1 cup of the cheese.
Spread in sprayed 13×9-inch (3-quart) glass baking dish. Top with pepperoni and remaining 1 cup cheese.
Bake at 375°F 20 minutes or until golden brown and bubbly.
Comments
Felicia Lisa

I wasn't disappointed in it, but.. I think for the cost of the ingredients vs the size of what was produced could have been better. It will be fun for camping… so that's the cook book the recipe will go into. I won't make it again without doubling it. We love leftovers… and I ate one piece… and Carl ate the rest.

Felicia Lisa

But… when I make it again I'll try a garlic Alfredo sauce (instead of a red sauce)… use fresh basil, and just play with it.
Calendar

April 2020
M
T
W
T
F
S
S
« Mar
1
2
3
4
5
6
7
8
9
10
11
12
13
14
15
16
17
18
19
20
21
22
23
24
25
26
27
28
29
30

Meta