RECIPE AND PHOTOS ALL BY 

Rosetta Sperring

ROSETTA HAS HER OWN BLOG CLICK ON LINK BELOW TO CHECK HER OUT>. ROSETTA'S SWEET TREATS
Here's and easy recipe for Banana Pudding Cake. I saw the recipe on a blog who saw it on another blog, who saw it on Pinterest! lol I've had a lot of compliments on this cake and it's pretty easy to make. http://rosettassweettreats.wordpress.com/2012/07/20/banana-pudding-cake/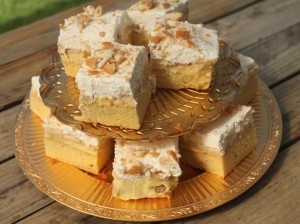 ROSETTA'S BANANNA PUDDING CAKE
Ingredients:
1 box yellow cake mix, plus ingredients to make your cake
2- (3.4 ounce) boxes of "instant" vanilla pudding
4 cups milk
2 bananas
1 box Vanilla Wafers
1 and 1/2 cups heavy cream
4 Tablespoons confectioner sugar
1 teaspoon vanilla
Instructions:
Bake cake in a 9×13-inch pan according to directions on the box.  Remove the cake from the oven and poke holes all over the cake with a wooden spoon handle.
Whisk together pudding and milk.  Pour over cake, making sure it gets down in the holes.  Put a layer of vanilla wafers on top of the cake.  Put cake in the refrigerator and allow cake to cool completely.
Once cake has cooled and pudding is set, slice bananas and layer on top of the vanilla wafers.
Whip together heavy cream, powdered sugar and vanilla extract. (I chill my mixing bowl in the freezer for 5-10 minutes before adding the cream and sugar). Whip at high speed for 1-2 minutes. Spread over cake and top with crushed Nilla wafers.