Please check out my friend Rena's Food Page http://cookinginplaingreek.com/
Rena's Traditional Greek Bean Soup (Fassolada) pictured below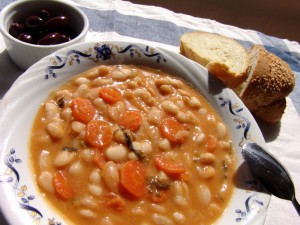 Ingredients
500 gr. butter beans 1 large onion chopped up 2 – 3 carrots washed and sliced ½ bunch of celery roughly chopped 2 – 3 teaspoonfuls concentrated tomato paste About ¾ cup olive oil salt
Directions
The previous night put the beans in plenty of water to soak them. The beans soak up the water, swell and more than double their volume. If they stay out of the water they don't soften up and it will take much longer for them to cook.
The following morning drain the beans, rinse them and place them in a pot with enough water to cover them. If you wish you can boil them for about 5 minutes and drain them. Put the beans in the pot again with fresh water. This makes the dish lighter. Add the onion, carrots, celery and tomato paste. When it starts boiling lower the heat and let the beans simmer for about one and 1 ½ hours. Check the water now and then, so they don't burn.
When you see that the skin on some beans is splitting up, that means that they are done. Taste to make sure. If they are still a bit hard, simmer a bit longer, 10 – 15 minutes. At the end of the cooking time, the soup should be somewhat thick. Add some salt and the olive oil. Stir and simmer for a couple of minutes. Check and adjust the salt and the soup is ready to serve.
The bean soup is accompanied by feta cheese on which you have sprinkled some oregano and a bit of olive oil, olives, filleted smoked herring, and lots of fresh, crusty bread.
Calendar

May 2019
M
T
W
T
F
S
S
« Apr
1
2
3
4
5
6
7
8
9
10
11
12
13
14
15
16
17
18
19
20
21
22
23
24
25
26
27
28
29
30
31

Meta