RECIPE AND PHOTO SUBMITTED BY Alexandra Lim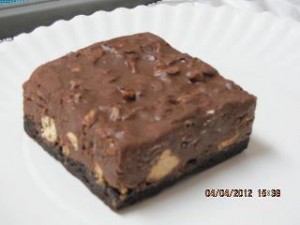 WARNING: this is very loaded!!!
Chocolate Peanut Butter Brownie with Reese's peanut butter cups, peanuts and rice crispy cereal … the ultimate brownie for the serious Chocoholic!
CHOCOLATE PEANUT BUTTER BROWNIE CRUNCH
Here's the recipe:
1 package fudge brownie mix (13″x9″ pan size)
12 peanut butter cups, chopped
1/2 cup salted peanuts, chopped
2 cups (12 oz) semi-sweet chocolate chips
1-1/4 cups creamy peanut butter
1 tbsp butter
1-1/2 cups crisp rice cereal
1 tsp vanilla extract
1/8 tsp salt
1. Prepare brownie batter according to package directiions. Spread into a greased 12″x9″ baking pan. Bake at 350F for 20-25 mins. or until a toothpick inserted near the center comest out with moist crumbs.
2. Sprinkle with peanut butter cups and peanuts. Bake 4-6 minutes longer or until chocolate is melted. Cool on a wire rack.
3. Meanwhile, in a microwave-safe bowl, melt the chocolate chips, peanut butter and butter; stir until smooth. Stir in the cereal, vanilla and salt. Carefully spread over brownies. Cover and refrigerate for at least 2 hrs before cutting.
Calendar

December 2018
M
T
W
T
F
S
S
« Nov
1
2
3
4
5
6
7
8
9
10
11
12
13
14
15
16
17
18
19
20
21
22
23
24
25
26
27
28
29
30
31

Meta