RECIPE AND PHOTO SUBMITTED BY Jennye Brown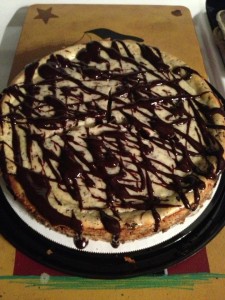 Recipe taken from :http://www.food.com/recipe/andes-candies-chocolate-mint-cheesecake-101492?layout=desktop
Andes Candies Chocolate Mint Cheesecake
1 cup chocolate wafer crumbs
3 tablespoons granulated sugar
3 tablespoons butter, melted

32 ounces cream cheese, softened ( this IS the correct amount)
1 cup sugar
4 eggs
2 teaspoons vanilla
28 Andes mints candies or 1 cup Andes mint baking chips

3 tablespoons whipping cream or 3 tablespoons whole milk
28 Andes mints candies or 1 cup Andes mint baking chips, divided
For the CRUST: Mix crumbs and 3 tablespoons sugar in small bowl.
Add butter, mixing well.
Press on bottom of 9-inch springform pan.
BAKE at 325* (F) for 10 minutes.
For the FILLING: Beat cream cheese and 1 cup sugar in large bowl at medium speed until well blended.
Add eggs and vanilla, mixing on low until well combined, do NOT overmix.
Stir in 1 package of chopped Andes Candies (28 pieces) and pour into crust.
BAKE: 325* (F) for 1 hour and 5 minutes or until center is almost set.
Run a knife between pan and cheesecake.
Set cake on cooling rack till room temperature.