OATMEAL CHOCOLATE CHIP SANDWICH COOKIES FILLED WITH BUTTERCREAM ICING

OATMEAL CHOCOLATE CHIP SANDWICH COOKIES FILLED WITH BUTTERCREAM ICING
VALENTINES COOKIES FOR MY SUNDAY SCHOOL CLASS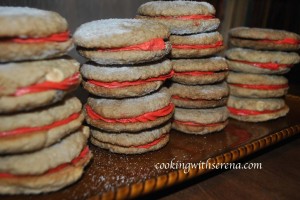 1 1/2 cup all purpose flour
NOTE: (if using self rising omit the baking soda and salt although I still add a pinch of salt no matter what)
1 tsp baking soda
1 tsp salt
1 1/2 tsp cinnamon
1 tsp nutmeg
3/4 cup shortening
1/2 cup sugar
1 cup brown sugar
2 eggs
1/4 cup milk
3 cups Oat Bran or 2 cups Quick Oats
1/2 cup chocolate chips
1/2 cup white chocolate chips
sift together flour soda salt and spices in large bowl.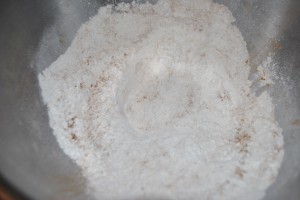 in mixing bowl add your shortening sugars eggs  mix..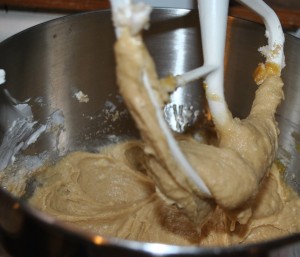 add in your flour and  beat adding milk slowly .. beat till smooth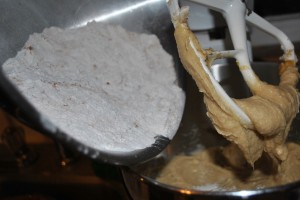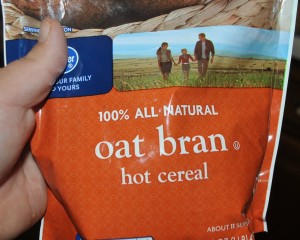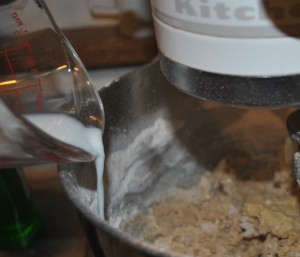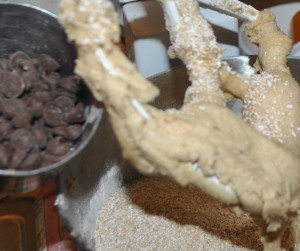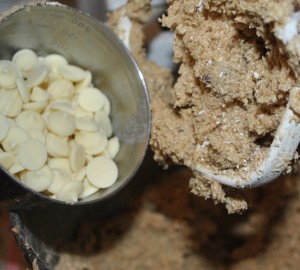 beat in the last ingredients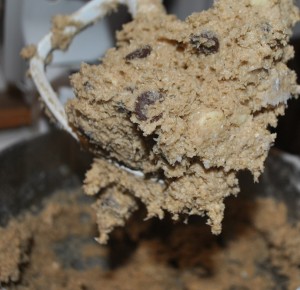 once mixed place on sprayed cookie sheet with floured hands patty out your cookies
try and make them same size because each cookie will  have a top and bottom..you will be filling these cookies with buttercream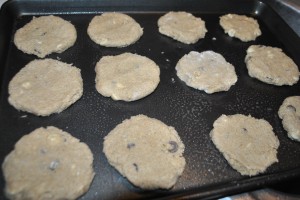 add sugar to the top of each one
and bake at 375 degrees for 12 to 15 minutes.. watch when the edges start to brown and take them out..  Do not over cook!!!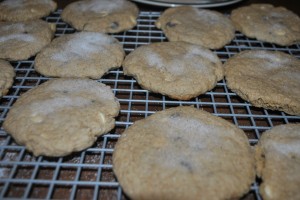 put on cooling rack or plate.. must remove from pan immediately
make icing..
once cooled pipe icing on the bottom of one cookie and top with another of same size..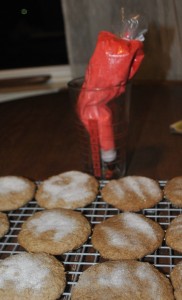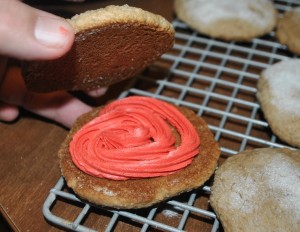 enjoy..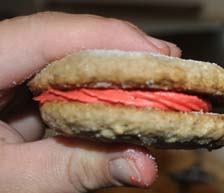 Store in Container with lid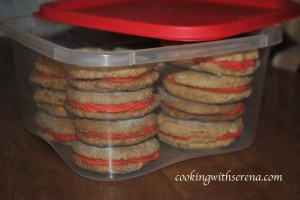 BUTTERCREAM ICING:
1/2 cup solid vegetable shortening
1/2 cup butter or margarine
4 cups about.. of confectionary sugar
2 Tbsp Milk
1 tsp vanilla extract
Cream your shortening and butter..
add sugar
add your milk and vanilla..
if it is not stiff enough add more confectionary sugar.. too thick add a tad more milk.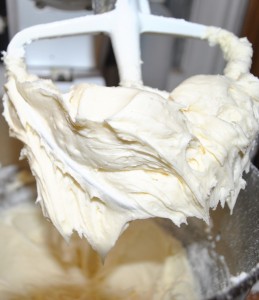 can add food coloring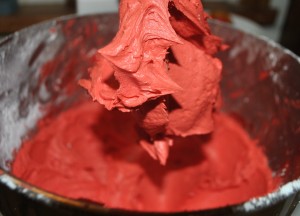 fill your bag easiest by standing in glass and folding the bag over rims..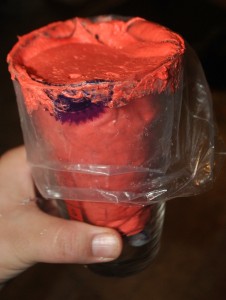 after piping your cookies.. put in container with a piece of bread.. then put lid on tightly.. the bread will keep your cookies moist