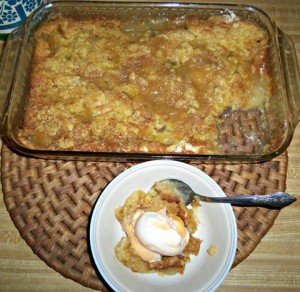 this is good and EASY!
Caramel Apple Cobbler
2 cans apple pie filling
1 stick melted butter
1 box yellow cake mix
1 jar caramel
Preheat oven to 350, butter a 13×9 cake pan, set aside. Pour apple pie filling into pan. Pour the DRY cake mix over the pie filling. Drizzle jar of caramel over the cake mix. Pour melted butter over everything – cover all dry mix. Bake 45 to 55 mins. @ 350.
I made home made caramel sauce and used half of it.
Easy Creamy Caramel Sauce
Mix: 3/4 c butter – 1 1/2 c firmly packed brown sugar – 2 Tabls water – 1/4 teas salt and boil for 3 to 5 minutes – depending on desired thickness – stir occasionally. Remove from heat and stir in 3/4 c evaporated milk (not sweetened) & 1 Tabls vanilla. Store in fridge for a week or freeze for 3 months. Makes 2 1/2 cups.